ASA certification is the industry's most distinguished credential, signifying that an individual has achieved the expertise and professionalism it takes to be a top practitioner in the staffing and recruiting industry. These study materials form the foundation of the certification programs, and are included with each certification package.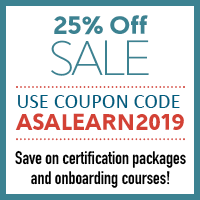 25% Off Sale: Save on ASA Professional Development in December
Now is the perfect time to invest in yourself, your company, and your future success. From Dec. 1–31, get a 25% discount on certification study tools and exams; mugs, cups, and frames to display your earned credential; and ASA Onboarding Courses. Use promotion code ASALEARN2019 in the ASA Store by Dec. 31.
ASA Certification Programs