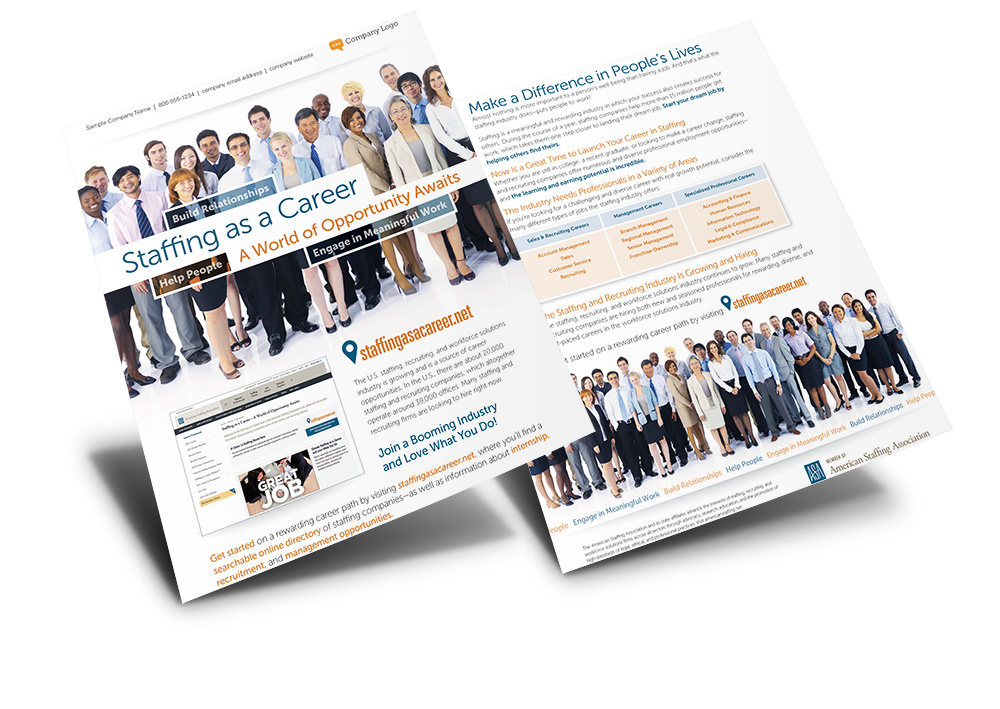 Staffing as a Career Flyer
This professionally designed flyer succinctly describes why job seekers should pursue a rewarding career working as a staffing company corporate employee. Download the flyer, personalize it with your staffing firm's logo and contact information, and print in color. The flyer is perfect for distributing at job fairs!
Download the flyer »
Flyer Instructions »
---
Staffing as a Career Video
This high-energy video speaks directly to job seekers and communicates the many benefits of a career as a corporate staffing employee. Share it on social media, embed it on your company's website, and leverage it on other marketing channels.
---
Staffing as a Career Template PowerPoint Presentation
Download this PowerPoint presentation—use a few or all of the available slides to educate job seekers, college career counselors, students entering the workforce, and more about a career in the staffing industry.
---
Staffing as a Career Social Media Guide
Use to this helpful guide for industry-specific social media tips and sample posts aimed at effectively marketing your company and your open corporate positions to prospective candidates. Make sure you're reaching job seekers on social media channels.
---
View the Highly-Rated Staffing World Session: Staffing as a Career—Using the Program and Getting Results
This panel of staffing executives who serve multiple industries will share how they are using the ASA Staffing as a Career initiative and resources to identify and hire recruiters and sales representatives for their organizations. Learn about internship and management training programs, and how staffing firms are collaborating with local colleges and universities to recruit new employees to fill internal positions. Promoting the staffing profession can help tackle the internal talent shortage—are you playing your part?