Staffing Today Daily Newsletter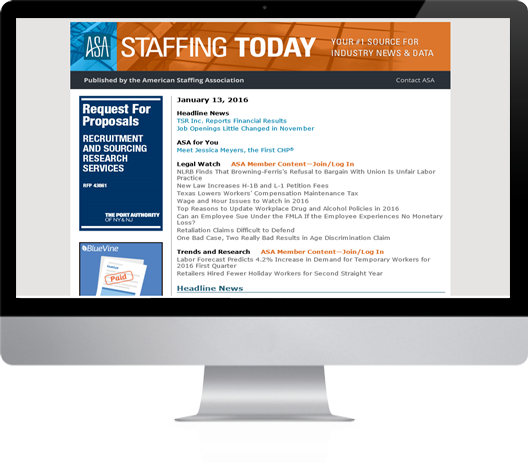 Staffing Today—the daily newsletter that reaches more than 40,000 staffing professionals—has quickly become the No. 1 source for industry news. It is the largest circulating publication in the staffing industry, reaching a broad audience that goes beyond ASA members.
Staffing Today also keeps the entire staffing community informed on important ASA advocacy, court actions, regulatory developments, and legislation that can directly affect clients, employees, and business operations. The daily newsletter also carries an all-inclusive summary of the association's most current professional resources, educational events, and important reminders.
Advertising in Staffing Today puts your products or services in front of a qualified target audience. Increase your company's visibility and market share by securing your ad space in Staffing Today.
Read the latest issue of Staffing Today »
Access the advertising contract »
---
ASA Marketplace
ASAMarketplace.net offers the staffing industry a one-stop-shop directory of products and services that help executives find solutions for their organization's needs. It features an intuitive and searchable database of industry suppliers that leads decision makers directly to your firm.
Visibility on the site is a must to drive new leads, enhance your brand, build name recognition, and most importantly stay in front of current clients. A listing in the online supplier's guide gives your company the opportunity to be in front of potential clients 24 hours a day/7 days a week. Users will have one click access to your company's website, contact information, and press and news releases.
---
ASA Central
ASA Central is the business social network exclusively for members of the American Staffing Association. On asacentral.americanstaffing.net, staffing professionals and industry suppliers can find and connect with colleagues through a robust member directory; participate in discussion boards; visit section communities; read member blogs; and much more.
There are myriad display advertisement options throughout ASA Central, including options that target specific sectors or discussions. Your company can leverage new business and increase brand recognition when you have a presence in this exclusive online community for staffing professionals.
Access the advertising contract »
---