Thank You—Staffing Law Was a Success
Featuring the industry's top attorneys and legal experts, the ASA Staffing Law Conference was a timely and engaging virtual event, featuring updated content relevant to challenges the industry is facing right now.
Special thanks to the sponsor of this event's virtual platform.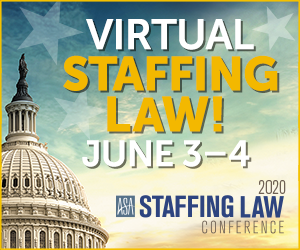 Browse Photos From the 2019 Conference
The 2019 ASA Staffing Law Conference was a great success! Here are some highlights from the day and a half of valuable content, networking, and meeting with leading exhibitors in the industry. Feel free to share these photos on your social media channels!
#StaffingLaw
.