National Staffing Employee of the Year Kevin Miller partnered with Adecco Staffing and made a smooth move from the college baseball diamond to a fast-paced career in his field.
---
Like so many recent college graduates, New Jersey native Kevin Miller was ready to hit the ground running. Miller had his sights set on a marketing position at a large corporation—one that would help kick-start a thriving career. Playing competitive baseball all his life instilled in him drive, passion, and a determined work ethic that he was prepared to showcase in his first job out of college.
Who's the NSEY?

The National Staffing Employee of the Year, the result of a prestigious award program sponsored by ASA corporate partner First Staff Benefits, is an individual who best exemplifies the staffing industry's five key messages—jobs, flexibility, bridge, choice, and training. Learn more »
But with an uncertain economy, high unemployment rates around the country, and new college graduates struggling to find employment, Miller knew he needed to tap every resource he could to make his dream a reality. Among the most valuable of those resources was Adecco—the Switzerland-based global staffing company with offices all over the U.S., including Wayne, NJ, which is where Miller first partnered with Adecco Staffing recruiter Jennie Parisi.
Miller had just earned his degree in business administration from Pennsylvania's Mansfield University, where he'd also been a stand-out slugger on the baseball team. Miller started all 140 games over the course of three seasons with a career batting average of .373. His 183 career hits currently ranks him ninth in the Mansfield University all-time records.
But now, Miller was embarking on an important new phase in his life—one that began with Parisi placing him in a temporary-to-permanent position at Ricoh Americas Corp., a Fortune Global 500 multinational technology company. Miller went to work as a marketing specialist at the firm's U.S. headquarters in West Caldwell, NJ.
"Working with a staffing company helped me get my foot in the door, and provided me with an opportunity to showcase my abilities in a practical environment," says Miller, the ASA 2013 National Staffing Employee of the Year. "Through the temping process, I was able to learn valuable skills, and see how I would fit into the organizational structure. It also gave me a chance to showcase my work ethic and attitude to my prospective employer."
Recruiter Matters
Kevin Miller had never worked with a recruiter before meeting Jennie Parisi at Adecco Staffing, but he quickly learned that having a sharp recruiter as a career ally can make a world of difference.
Having worked as a recruiter since 2007, Parisi says Miller was a stand-out candidate from the start, and that his dedication and work ethic throughout his assignment drove home the fact that he was eager to start his career.
"The fact that Kevin was a successful college athlete told me that he was disciplined, was great at multitasking, and had the ability to work hard to achieve his goals," says Parisi. "He knew that by working with a staffing company he could find his path and build a career."
Parisi nominated Miller for the National Staffing Employee of the Year distinction, and was the first to deliver the exciting news that he had been selected. Parisi also traveled to Las Vegas in October to see Miller deliver his acceptance speech at the ASA annual convention.
"Kevin was a clear choice for National Staffing Employee of the Year due to his commitment to Adecco and to his assignment," Parisi adds. "Through his dedication and hard work, he was able to secure a position with our client and pursue his desired career path.
Well-Earned Run
By that summer, Ricoh offered Miller a permanent position, noting his excellent performance during his temporary assignment and his team-player attitude. Today, Miller is responsible for designing and implementing marketing strategies for the company, while overseeing current business channels and project management. And, he enthusiastically credits his staffing firm relationship for getting him onto his desired career path.
"Adecco placing me with a Global 500 company was absolutely paramount to the success I am experiencing in my career today," Miller said to a crowd of more than a thousand staffing professionals who gathered in Las Vegas last October for Staffing World®, the ASA annual convention and expo. There, Miller was honored as the association's 2013 National Staffing Employee of the Year and treated to an all-expenses paid Staffing World experience.
"I would like to thank all of you who provide college graduates with the opportunities they need to get started in their careers," he said. "Thank you for providing the support we need to succeed."
Indeed, ASA member companies like Adecco include many recent college graduates among their highly competitive candidates, helping to illustrate the diversity of services and talent offered by staffing firms every day.
Here's a closer look at 2013 National Staffing Employee of the Year Kevin Miller, who in this exclusive interview with Staffing Success offers a valuable glimpse into what staffing firms can do to help young people jumpstart their careers.
SS: What ultimately made you decide to contact a staffing company during your job search?
Miller: Entering a rough economy, I found it was difficult to find a quality job after graduation. I wasn't just looking for just a job either; I was looking for a career. I decided to reach out to a staffing company—Adecco Staffing—which my father recommended it to me, because staffing companies can help you get a foot in the door with larger companies.
SS: Describe the process of working with a staffing company during your temporary-to-permanent assignment. How did your recruiter help you throughout the assignment?
Miller: The process of working with a staffing company was great, and recruiter Jennie Parisi was there to help me every step of the way. She helped me prep for the interview with the company and helped with any questions I had regarding the job. The entire experience was valuable because it allowed me to learn and understand how I fit within the organization, and determine if this was something I wished to pursue as a career.
Close Up With Kevin Miller
The ASA annual convention last October wasn't Miller's first visit to Las Vegas; nor was it the first time he's delivered a speech to a packed audience of business executives—he's done both for his current job at Ricoh. Still, his Staffing World experience was a thrilling one, Miller says. He was honored as the 2013 National Staffing Employee of the Year and received a travel gift certificate for two that he can use toward a trip anywhere in the world. He hasn't decided on his destination yet, but says he plans to vacation with his girlfriend.
Here are three fun facts about Miller—this year's ASA ambassador for staffing industry talent.
As an outfielder for the Mansfield University baseball team, Miller received All Pennsylvania State Athletic Conference honors three years in a row, as well as ABCA/Rawlings All-Region honors twice, and was named a Pre-Season All American. His 183 career hits included 30 doubles, two triples, and 10 home runs at Mansfield.
Miller's major at Mansfield University was business administration. However, his favorite academic subject was history.
Besides baseball, some of Miller's favorite hobbies include soccer, paintball, and trap shooting. He also enjoys movies—his favorite movie is "Anchorman."
---
Staffing Firms—Leading the Way to Work
As a new college graduate entering an uncertain job market, Kevin Miller made a smart move when he partnered with a staffing firm. Now, as the 2013 National Staffing Employee of the Year, he is a high-profile example of the critical role staffing firms play in leveraging talent and enabling workers to adapt to change—especially in today's rapidly evolving economy.
A recently released report, "Adapting to Change," published by the Boston Consulting Group for the International Confederation of Private Employment Agencies (Ciett), has helped launch a worldwide campaign that underscores the staffing industry's commitment to improving the world economy.
The campaign, "The Way to Work: A Job for Every Person, a Person for Every Job," pledges that the industry over the next five years will:
Support 280 million people in their professional lives
Help 75 million young people enter the job market
Upskill 65 million people, giving them more work choices
Create 18 million more jobs
Serve 13 million companies with the right talents to succeed
As a member of Ciett, ASA is committed to helping fulfill this global pledge for the benefit of job seekers everywhere. Visit ciett.org for more information about the campaign, and to find out how your firm can contribute.
SS: You were hired permanently by Ricoh last August. What are some of things you like best about your job? What have been your favorite projects so far?
Miller: One of the many things I like is that I have the ability to work independently and really be creative. I get to work on an array of diverse projects, including market research and analysis, business planning, project management, account management, the creation of brochures, and managing the brochure and marketing database. Some of my favorite projects have been the redesign of the company's website and the market research for new products.
SS: Your experience partnering with a staffing firm was a clearly successful one. That said, do you think more college graduates should consider doing the same?
Miller: I would absolutely recommend staffing firms to all recent college graduates. Staffing companies are filled with people who understand the industries that people are trying to get jobs in, and can help people really get started along a true career path that will help benefit them in the future.
SS: Your comments during your Staffing World speech—about how recruiters should strongly consider working with athletes—were intriguing. Elaborate on why you said this.
Miller: You should always take the time to look at college athletes because of what we bring to the table outside of just a paper résumé. The drive, determination, and work ethic that college athletes must exude to succeed at their sports can be channeled into the work place. I can't begin to tell you how many reports I did during a six-hour bus ride to our next game just to keep up with my school work. Athletes have to learn how to balance their education with being a full-time athlete; they must manage their time between academics and sports. This is a skill that not many can master, and although we may not always have the best grades, our competitive drive translates into a work ethic that's hard to match.
---
Melissa Beattie is public relations specialist for the American Staffing Association. Send feedback on this article to success@americanstaffing.net. Follow ASA on Twitter @staffingtweets. 
Got Top Talent?
Do you have the perfect candidate in mind for the National Staffing Employee of the Year? Start planning now. Click here for details and a nomination form.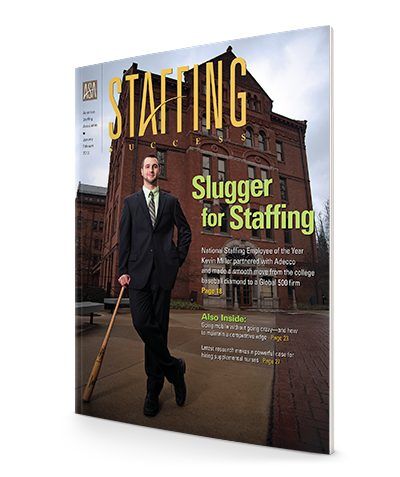 Slugger for Staffing—Meet Kevin Miller, the 2013 National Staffing Employee of the Year, a recent college graduate and stand-out athlete who says partnering with a staffing firm helped him realize his professional goals—despite an uncertain economy and tough job market. Through a temporary-to-permanent assignment with Adecco, Miller proved his value, found his fit, and successfully launched a marketing career with a Global 500 company.