December 03, 2014
In this scenario, a professional new to the industry spends the day with the staffing firm's general counsel. He quickly realizes that he has a lot to learn about the legalities of the business—especially as it pertains to hiring practices and managing clients.
By Lisa Ann Cooney, Esq.
---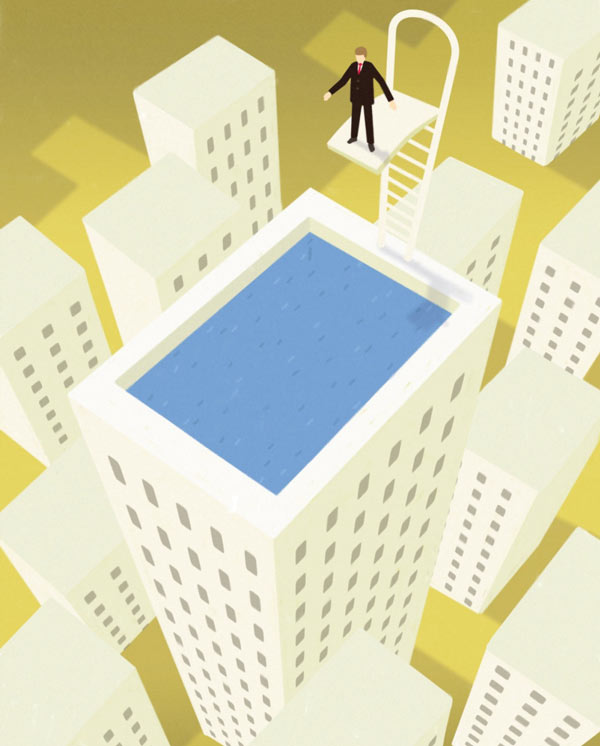 For nearly five years Joseph Seeker has worked for HR Trust, a regional nonprofit organization focused on providing online resources to human resource professionals. Seeker has always been interested in the employment process, but recently decided to take his career in a related but different direction. Through his professional networks he learned of an entry-level job opportunity with a staffing firm in his hometown of Oxford, OH.
Seeker is now part of the support staff for a team of recruiters. And as much as he loves the work, he knows he has a lot to learn. Each Friday, part of his work day includes a comprehensive lesson related to the business. This week, the topic is citizenship discrimination in the hiring process. He gets a fresh cup of coffee and hunkers down in the conference room.
Examining Title VII
Many staffing professionals think that Title VII of the Civil Rights Act prohibits citizenship discrimination. They are correct—sort of. Title VII is the primary piece of antidiscrimination legislation applying to employers, but Title VII only prohibits national origin—not citizenship—discrimination.
"National origin" means coming from a particular place or having particular ancestors, or having a particular accent or physical or cultural characteristic. It is not the same thing as citizenship; the U.S. Supreme Court said so in 1973 in Espinoza v. Farah Mfg. Co. Inc.
Espinoza involved a permanent resident alien from Mexico who was denied employment pursuant to the employer's policy of hiring only U.S. citizens. She sued, but because citizenship is not expressly mentioned in the text of Title VII as a characteristic protected by the statute, the Supreme Court held that a refusal to hire non-U.S. citizens was not prohibited by Title VII.
When placing candidates with clients, citizenship requirements are sometimes permissible, sometimes unlawful, and always complicated. Before saying "yes" to a client, consult with your legal department.
Although not the actual ruling of the case, the Espinoza court recognized that if one could prove that a citizenship requirement had the "purpose or effect" of discriminating against an individual on the basis of national origin, the citizenship requirement could be deemed tantamount to national origin discrimination. The court stated:
"[A] citizenship requirement might be but one part of a wider scheme of unlawful national origin discrimination…[A]n employer might use a citizenship test as a pretext to disguise what is in fact national origin discrimination. Certainly Title VII prohibits discrimination on the basis of citizenship whenever it has the purpose or effect of discriminating on the basis of national origin. The Act proscribes not only overt discrimination but also practices that are fair in form, but discriminatory in operation."
Although the court went on to find no evidence in the case before proving that the citizen-only policy had the purpose or effect of discriminating against persons of Mexican national origin, which meant that Espinoza lost her case, the quote above opened the door for future lawsuits under Title VII.
Because citizen-only requirements can be deemed tantamount to national origin discrimination, staffing professionals should be cautious about implementing citizen-only rules. This advice is particularly important given that a second federal law—the Immigration Reform and Control Act of 1986—expressly prohibits citizenship discrimination in employment.
Accounting for IRCA
IRCA established in 1986 a national system designed to control employment of unauthorized and undocumented workers. The statute requires newly hired employees to present certain documents to their employer to establish their identity and their ability to work lawfully.
Recognizing that IRCA's requirements could have the unintended effect of causing employers to simply decline to hire "foreign" applicants, Congress included in IRCA a prohibition against citizenship and national origin discrimination. IRCA's protections apply to everyone lawfully able to work in the U.S., except for those working under H-1B visas and some other work authorizations. Thus, today, a policy like that in Espinoza would likely violate IRCA's antidiscrimination provisions.
Analyzing the Exceptions
There are "national security" exceptions to Title VII and IRCA. (IRCA states that discrimination permitted under Title VII's national security exception also is permissible under IRCA.) Section 703(g) of Title VII shields an employer from claims of discrimination if: (1) a U.S. citizenship requirement is embedded in the duties of the job or in a site access program at which a job is to be performed; and (2) it is imposed "in the interest of national security," (3) under "a security program," (4) with origins in a U.S. statute or a presidential executive order.
This four-pronged test can seem confusing, but an example of how it works is illustrated by the Fifth Circuit Court of Appeals' 2013 decision in Toy v. Holder.
Toy involved access to a U.S. Federal Bureau of Investigations building by a contract worker employed by a staffing company. After the FBI revoked Toy's access to the building, because it concluded that she had engaged in security breaches, the staffing company terminated her employment. She sued the FBI, claiming sex discrimination under Title VII.
The Fifth Circuit framed the issue like this: Was access to the FBI's premises, where the job was to be performed (prong 1), part of a requirement imposed in the interest of national security (prong 2), under a security program (prong 3), in effect pursuant to or administered under a presidential executive order (prong 4)?
The Toy court found that "security program" was to be interpreted broadly to mean any federal regulations or an executive order relating to natural security. The Toy court found that the FBI access program was grounded in Executive Order 12829, which had been established to regulate nongovernment workers' access to government buildings. Because the FBI's decision to revoke Toy's access was made under this executive order, which was designed for security reasons, the court found the national-security exception applicable. Consequently, judicial review of  Toy's decision was barred.
Requiring Security Clearances
There are at least two post-Toy scenarios where screening applicants on the basis of citizenship is likely permissible. The first involves the government space. Staffing companies supply their government clients with temporary workers, who often need security clearances. The security clearance process for private contractors is grounded in Executive Order 12829, which established the National Industrial Security Program. The NISP operating manual says:  "Only U.S. citizens are eligible for a security clearance. Every effort shall be made to ensure that non-U.S. citizens are not employed in duties that may require access to classified information."
Thus, U.S. citizenship is required for security clearances, which is a job requirement imposed in the interest of national security via an executive order. Accordingly, staffing companies can ask applicants about their citizenship when recruiting for jobs that require these security clearances, and they can lawfully eliminate non-U.S. citizens from consideration.
The second scenario involves jobs within the nuclear energy industry. The Nuclear Regulatory Commission is the federal agency charged with enforcement of the Atomic Energy Act; its role includes "protecting…nuclear power plants in the interest of national security." The NRC requires all nuclear power operators to implement unescorted access authorization (UAA) programs. A UAA program must ensure that individuals allowed on a nuclear site without an escort are "trustworthy and reliable," without the "potential to commit radiological sabotage."
Substantial background investigations are done on individuals seeking UAA; a complete personal history, including questions about citizenship, is undertaken. Given this background, if a staffing company is providing temporary labor to a nuclear client, candidates for those positions can be asked during the pre-employment stage to disclose their citizenship. Moreover, if citizenship plays a part in a failure to obtain UAA from the client, which in turn would lead to denial of employment, judicial review of that employment decision should be barred under the national-security exception, because UAA is a site access program implemented in the interest of national security under the Atomic Energy Act.
When placing candidates with clients, citizenship requirements are sometimes permissible, sometimes unlawful, and always complicated. Before saying "yes" to a client, consult with your legal department.
---
Lisa Ann Cooney, Esq., is general counsel for Yoh. Send feedback on this article to s******@americanstaffing.net. Follow ASA on Twitter @StaffingTweets.
This material is not intended and should not be relied upon as legal advice. ASA members should consult with their own counsel about the legal matters discussed here.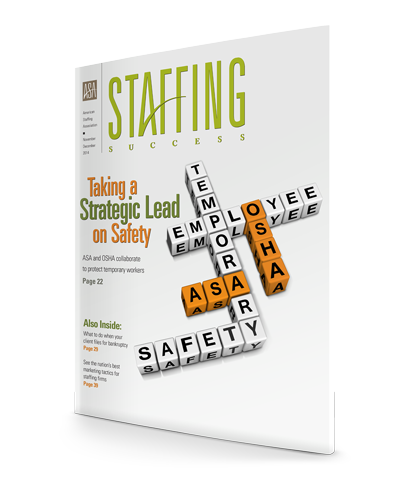 It is one of the most significant partnerships in the staffing industry's recent history. This year, the top officials for ASA and the U.S. Occupational Safety and Health Administration signed a landmark agreement—marking the start of a collaborative relationship focused on protecting the health and safety of temporary workers in the U.S.