April 20, 2017
Time
8 a.m.–3 p.m. Pacific time
Online registration is now closed. Onsite registration will be available.
Location
Hilton Portland Executive Tower
921 SW 6th Ave
Portland, Oregon 97204
Pricing
Member: $85
Nonmember: $170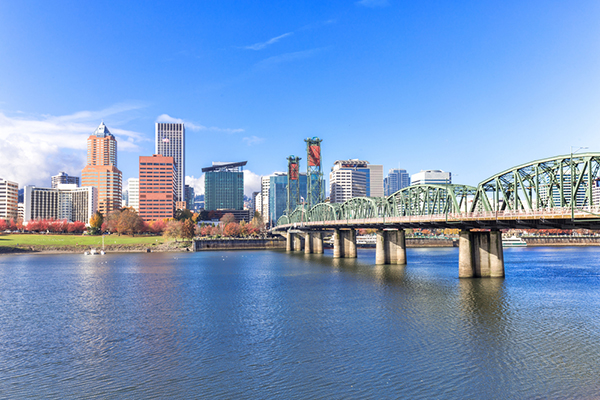 Description
The ASA Oregon Staffing Symposium, hosted by the ASA Oregon Council, takes place April 20 in Portland, OR, and is designed specifically for professionals doing business in Oregon. This one-day event will convene an impressive lineup of national and local industry leaders for strategic discussions and timely presentations.
Toby Malara, Esq., government affairs counsel for the American Staffing Association, will kick off the event by discussing the dynamics of the new administration and Congress. What policy changes can the administration make on its own? Where does it need help from Congress? What issues are on their respective legislative agendas, and what does that mean for the staffing industry?
Promoting and ensuring temporary worker safety and well-being is the responsibility of every staffing firm. In fact, the Occupational Safety and Health Administration's Temporary Worker Initiative says both host employers and staffing agencies have roles in complying with workplace health and safety requirements, and they share responsibility for ensuring temporary worker safety and health. Join Amy K. Harper, Ph.D., workplace strategy director, National Safety Council, and ASA member Scott Bicksler, regional safety manager, Aerotek Inc., as they review a fictional case study, created jointly by ASA and NSC (under their respective OSHA alliances) using OSHA's citations as a guideline. The case study provides practical information for staffing agencies and host employers to better understand who is responsible for recording temporary worker injuries on the OSHA 300 recordkeeping log. You'll also get an introduction to ASA's Safety Standard of ExcellenceSM program—the new exclusive mark that staffing firms can earn so that clients, candidates, and workers will know their company commits to and follows safety best practices.
While you enjoy lunch, veteran industry educator Eric Gregg will lead a discussion on the state of service in our industry and keys to attaining consistently remarkable service at your firm. Leveraging more than a decade of staffing client and job candidate surveys, along with insight into more than 300 satisfaction programs of staffing firms in North America, this data-rich presentation will change how you view service at your firm.
Finally, explore the region's most pressing business and operational questions and gain practical solutions in Trending Insights, a roundtable learning session. Participate in three 40-minute discussion topics selected by industry leaders.


8–8:30 a.m. Registration and Attendee Meet and Greet

8:30–9 a.m.
ASA for You

9–9:45 a.m.
The Trump Administration and the 115th Congress: What It Means for the Staffing Industry
Toby Malara, Esq., government affairs counsel, American Staffing Association

9:45–10:30 a.m.
State Legislative Update: Business Outlook for Oregon
Alison Hart, executive director, Oregon State Chamber of Commerce

10:30–10:45 a.m.
Refreshment Break

10:45–11:45 a.m.
Protecting Temporary Workers: Roles and Responsibilities of Host Employers and Staffing Agencies
Amy K. Harper, Ph.D., workplace strategy director, National Safety Council
Scott Bicksler, regional safety manager, Aerotek Inc.

11:45 a.m.–12:30 p.m.
From Good to Great: How the Best Staffing Firms Win Year After Year (luncheon presentation)
Eric Gregg, president and CEO, Inavero

12:30–2:30 p.m.
Trending Insights Roundtable
Leasing vs. Staffing Regulations (J. Burton)
Keeping Temporary Workers Safe (A. Harper)
Ask a Lawyer Anything (T. Malara)
Best Practices–Client Vetting Process (S. Bicksler)

2:30-3 p.m.
Trending Insights Takeaways and Wrap Up

Sponsored by



Speakers

Scott Bicksler, safety manager, strategic sales and operations, Aerotek
Bicksler came to Aerotek after retiring from the U.S. Army as a nuclear, biological, and chemical warfare specialist. While on active duty, he held increasingly demanding levels of supervisory, leadership, and training positions. His assignments included three in Europe, one in South Korea, two tours of Southwest Asia during Desert Shield/Desert Storm, and various assignments in the U.S. His career with Allegis Group began while still on active duty in 1994. He attended the first Hazwoper class that targeted personnel departing from the military. Upon retiring from the military, he was hired as a full-time field operations liaison for Onsite Environmental Staffing. In addition to assignments as regional safety manager in the southeast, midwest, and west regions of Onsite and Aerotek, he was the director of safety at TEKsystems for three and a half years.
---

John Burton, CHP, president, Emerald Staffing
Burton began his career with Emerald Staffing in 1984. Over the years, he built a solid reputation for his professional approach to staffing, recruiting, and market challenges. Burton has served on various charitable and business advisory boards, while operating Emerald Staffing as a hands-on president and majority shareholder. In addition to his professional accreditations from the American Staffing Association and the state of Oregon, Burton holds a bachelor of arts degree from George Fox University.
---

Amy K. Harper, Ph.D, workplace strategy director, National Safety Council
Harper is director for workplace safety initiatives at the National Safety Council. In her role, she is responsible for the council's strategic planning for workplace safety and the execution of the council's first advocacy initiative, the Journey to Safety Excellence campaign. She has been employed in the field of safety and health for 18 years, having worked primarily in the insurance industry. Harper's experience varies from consulting with Fortune 500 companies as well as small businesses, to product development, marketing, and executive-level management.
---

Alison Hart, executive director, Oregon State Chamber of Commerce
Hart works with chambers throughout the state on strategic planning, growing advocacy efforts through grassroots engagement and board and policy management. Hart also serves as the director of coalitions and grassroots development for the Public Affairs Council. In this role, she manages multiple clients to grow their members' value proposition, including advocacy and reputation management, strategic messaging, stakeholder engagement, grassroots development and government relations. An accomplished business and community leader, the foundation of Hart's career has included designing, developing, marketing, and facilitating membership and community-building programs for both private sector and nonprofit organizations. She brings an innate ability to cultivate trusted relationships by delivering significant value to her clients, acting as a valuable resource while providing leadership on key issues impacting the region.
---

Eric Gregg, chief executive officer, Inavero
Gregg is chief executive officer of Inavero, a leading provider of client and employee surveys for the staffing industry and an ASA satisfaction survey partner. As ASA research partner, Inavero conducts the association's annual membership survey, the ASA Sector Benchmarking Survey, the quarterly ASA Staffing Employment and Sales Survey, the weekly Staffing Index survey, and member surveys for some ASA-affiliated chapters. The creator of the Best of Staffing list, Gregg is an expert on client retention in the staffing industry. He has spoken at many industry events and published numerous articles on the subject.

---

Toby Malara, Esq., government affairs counsel, American Staffing Association
Malara manages all staffing-related legislation and regulation on behalf of ASA and represents the industry's interests before Congress and state legislatures. He provides government relations counsel to the association's affiliated state organizations and regional councils and directs political fundraising activities through the ASA political action committee, StaffingPAC. Malara is a graduate of Georgetown University and received his law degree from Catholic University. He is a member of the Maryland bar association.
---
This event qualifies for 5.25 continuing education hours (2.5 of which are legal) toward maintaining your ASA credential.