Making Temporary Worker Safety a Priority
The Safety Standard of Excellence program has been designed by the American Staffing Association and the National Safety Council to encourage staffing firms to adopt workplace safety best practices and standards and to foster and measure continuous safety improvement across all industry sectors.
Questions? Contact the SSE program administrators.
800-888-9188
s**@nsc.org

---
Select Member Companies That Have Reached the Highest Standards of Safety
Search by company name or state to find staffing companies that have earned the prestigious Safety Standard of Excellence mark from the ASA and the National Safety Council. These companies are identified as having earned the mark in the ASA directory of staffing firms, which is used by clients and job seekers looking to engage with staffing companies.
---
Effective Safety and Risk Management
Earning the Safety Standard of Excellence mark demonstrates a staffing company's adoption of safety best practices, a commitment to ongoing improvement, and ability to help control workers' compensation costs. Hear how staffing firms can ensure effective safety and risk management for their temporary employees.

---
Roles and Responsibilities of Staffing Firms and Host Employers
ASA members who enroll in this program show commitment to selecting and screening applicants, ensuring general safety training and orientation, evaluating the work site hazards employees may be exposed to, ensuring necessary protections are in place, and instituting collaborative incident management protocols. This video describes the roles and responsibilities of staffing firms and host employers.
---
Making Temporary Worker Safety a Priority
ASA and its member staffing companies make temporary worker safety a priority. Hear what leaders in the industry have to say.
---
View this Video to Get an Introduction to the Program
Through this program, designed by ASA and the National Safety Council, staffing firms can now be formally recognized for their commitment to worker safety. NSC is a nonprofit organization that strives to eliminate preventable deaths at work. It has more than 50,000 member locations, many that use staffing services.
Promoting and ensuring temporary worker safety and well-being is the responsibility of every staffing firm. In 2013, the U.S. Occupational Safety and Health Administration launched its Temporary Worker Initiative focused on compliance with safety and health requirements when temporary workers are employed under the joint or dual employment of a staffing firm and a host employer. The initiative asserts both host employers and staffing firms have roles in complying with workplace health and safety requirements and they share responsibility for ensuring worker safety and health.

By participating in the Safety Standard of Excellence program, staffing firms, their placed workers, and host employers can build knowledge and a mutually beneficial relationship that will identify and mitigate or even eliminate workplace hazards and exposures, ensure clear communication between the staffing firm and host employer, and clearly delineate responsibilities of each party—all intended to reduce temporary worker injuries, illnesses, and fatalities.


Prior to registering, participating firms must review and agree to the

Program Guide

policies.

By participating in the Safety Standard of Excellence program, companies will have access to industry best practices, guidelines and resources to evaluate and improve business operations related to temporary worker safety. This information will provide you with knowledge to make enhancements in company operations over a period of several months.


When ready, participants will schedule an on-site consultation with a program consultant. At that scheduled visit, an on-site safety assessment and review of safety-related policies and procedures will be conducted and scored against the program best practices.

Upon completion of the on-site assessment, participants will have a consultation that will summarize findings, and discuss what to expect in the written report which participants will receive at a later date.


Initial Assessment Fees

Once registered, you will schedule a welcome call, where you will review your corporate size and structure with a consultant. The assessment process and pricing will be discussed in full during this initial call. The full program cost is dependent on company structure, size and file management practices. Following, the staffing firm will receive a Safety Standard of Excellence proposal with documentation to sign, stating their agreement to the quoted assessment fees and payment schedule.

The application fee includes access to the program's online resources and tools. Assessment fees are separate. Assessment fees for ASA members range from $3,300 to $18,000 and are dependent upon the total number of branch offices your firm has.

In the event a firm has multiple divisions that operate under the same management, and use the same policies and procedures, the company will register based on the number of offices, including the offices within their separate divisions. The number of assessments and price will be calculated based on the total number of offices, including the corporate office. If the company has efiling in place for easy access to all office files; this will be taken into consideration within the pricing structure. In the event a firm has multiple brands or franchises that are under separate management, each brand or franchise would register and apply under that name.

To help with budgeting, the cost of assessments will be invoiced following each assessment. Depending upon your firm's safety program readiness, assessments would likely start two to five months after initial application. Assessments can be spread out over some time; the exact timetable is up to you. Once the program Mark is earned, then you would want to earmark the renewal and reassessment fees for your budget occurring two years from then.

Once enrolled, you will have unlimited access to the website materials, and you would create your own timeline in terms of planning, preparing and scheduling the assessments.

If a passing grade is earned, the company that registered will earn the mark, which will have the Safety Standard of Excellence logo personalized with their company name. If the division has also been assessed a separate logo for the division can be processed for an additional fee.

Those firms that do not score at or above a 2.3 may elect to undergo additional consulting, action planning, or training to ensure recommendations are implemented, after which they can be reassessed. A fee will be charged for additional assessments.
---
The scope of the Program is depicted in the graphic below. The best practices contained within the Program refer to
Staffing Firm responsibilities for to temporary and contract workers placed on assignment at client locations
Staffing Firms' ability to evaluate, communicate with, and influence clients with respect to temporary and contract worker safety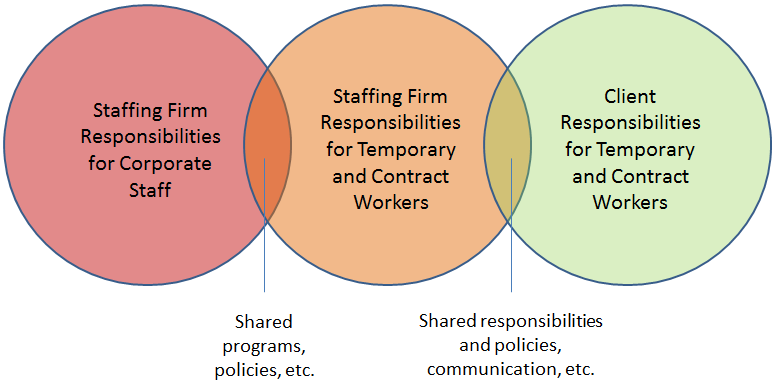 Criteria for Assessment
Staffing Firm Responsibilities for Worker Selection
Staffing Firm Responsibilities for Worker Training and Orientation
Staffing Firm Verification of Client Responsibilities for Worker Training and Orientation
Staffing Firm Evaluation of Client Safety Culture, Safety Performance, Work Site, and Job
Staffing Firm Responsibilities for Incident Management
Staffing Firm Verification of Client Responsibilities for Incident Management
Contracts
Nurse Staffing Firms (Sector-Specific)
Upon registering for the Program, participants will have access to a secure program portal that contains resources and tools to assist in preparing for on-site consultation and assessment, as well as best practice resources for ongoing improvement.
Read more in the program FAQs.
Renewal assessments are required to renew use of the Mark every two years. Payment of the renewal application fee does not guarantee continued use of the Mark. Renewal assessment fees will be determined based on corporate size and structure and range from $3,470 to $16,845.
Renewal Requirements
To continue using the Mark, staffing firms must renew their commitment to, and demonstration of, safety standards every two years on either Jan. 1 or July 1.
It is expected that staffing firms earning use of the Mark will show improvement in subsequent assessments. To assist with your budget planning, renewal fees for companies that are members of both ASA and NSC is $695.The renewal fee for ASA members is $795 and for companies that are not members of either ASA or NSC, the renewal fee is $1590. See program guide (link to program guide) for more detail.