Keynote Presenter
Mike Krzyzewski
Head Men's Basketball Coach, Duke University (1980–2022)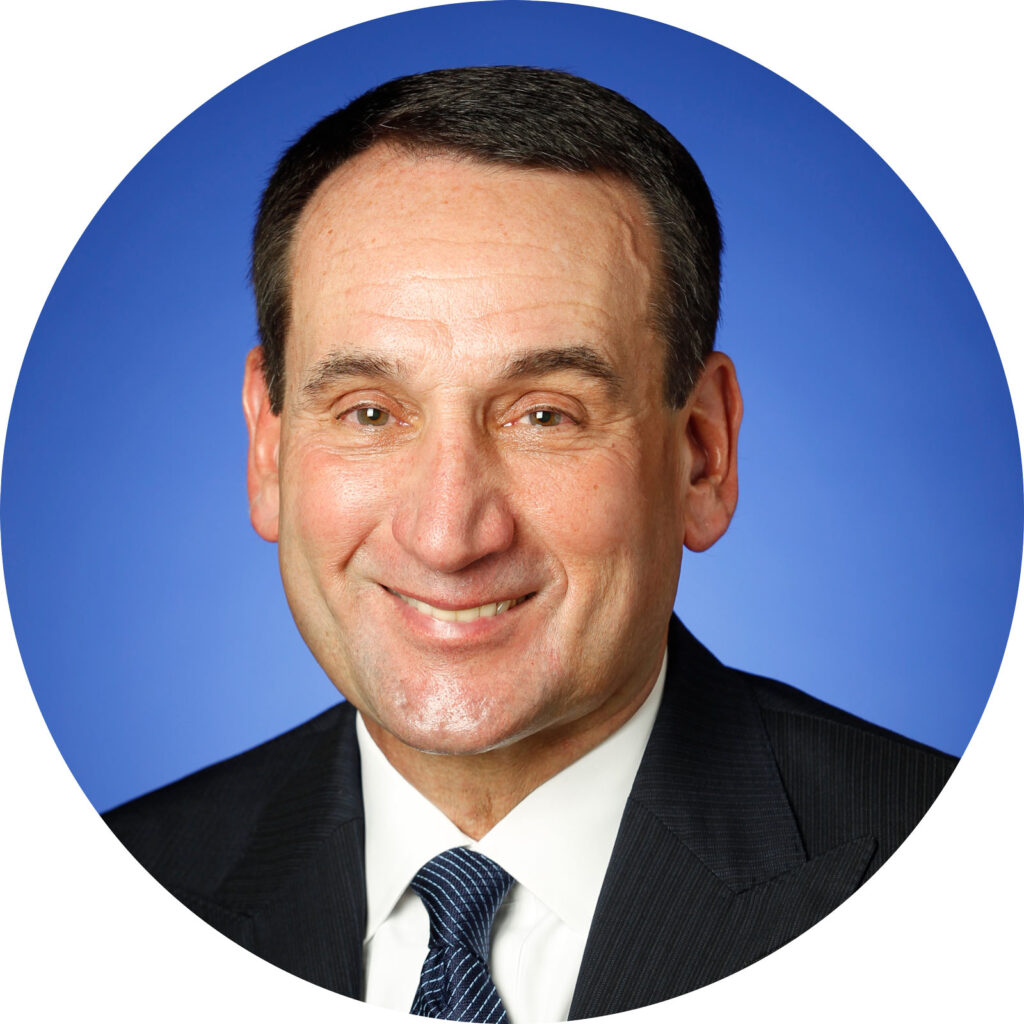 Passionate, dynamic, inspiring, and coach of Duke University men's basketball team who led Team USA to three Olympic gold medals, Mike Krzyzewski (known by fans as Coach K) is a master motivator—not only of teams, but of individuals and organizations, spurring them on to succeed beyond even their own expectations.
A member of the Naismith Memorial Basketball Hall of Fame, Coach K shows audiences how they, too, can compile winning numbers in both their professional and personal lives. Perhaps the most accomplished basketball coach in history, Coach K's journey in the sport was unparalleled in many ways as he accumulated the following career milestones:
---
Most NCAA Division I Victories (1,202)
Most Final Fours (13; five NCAA Championships, second all-time)
Most Decades with Final Four Appearances (five; 1980s, 1990s, 2000s, 2010s, and 2020s)
Most Olympic Gold Medals as a Head Coach (3; 2008, 2012, and 2016)
Most World Championship Gold Medals as a Head Coach (2; 2010 and 2014)
Most NCAA Tournament Victories (101)
Most NCAA Tournament Appearances by a Coach (36)
Most Games as No. 1 Team in the Country by a Coach (254)
Most Weeks as No. 1 Team in the Country by a Coach (127)
Most Seasons as No. 1 Team in the Country by a Coach (21)
Most Atlantic Coast Conference Victories (535)
Most ACC Tournament Championships (15)
Most NBA Draft No. 1 Selections (4)
Most NBA Draft Lottery Selections (29)
Most NBA Draft First Round Selections (46)
Most NBA Draft Selections (73)
---
Coach K maps out a clear game plan for achieving success—motivating, leading, and providing powerful strategies for building confidence, trust, communication, and teamwork. Like any elite coach, he scouts your organization to discover how to best inspire and renew your people. He is the author of two New York Times best-sellers including Beyond Basketball: Coach K's Keywords for Success. His most recent book is The Gold Standard: Building a World-Class Team.
A 12-time National Coach of the Year, Sports Illustrated named Krzyzewski its Sportsman of the Year in 2011. Krzyzewski has been honored by USA Basketball seven times as the recipient or co-recipient of the USA Basketball National Coach of the Year Award. He is the only men's coach to have won gold medals at the Olympics and the FIBA World Cup, while also possessing at least one NCAA Championship (he has five).
In addition to being a co-founder of the Coach K Center on Leadership and Ethics, Krzyzewski serves as a Professor of the Practice of Leadership at the Fuqua School of Business at Duke. The Coach K Center at Duke has directly influenced the leadership development of more than 6,500 MBA students and executives since 2004. The board chair of the Emily Krzyzewski Center in Durham, NC, Krzyzewski founded the center that has served more than 7,500 students since its inception in 2006. Coach K has been on the board of directors at the V Foundation since the beginning in 1993. Annually in Napa Valley, CA, he and his wife Mickie host the V Foundation Wine Celebration, an event that has raised tens of millions of dollars in the fight against cancer.