September 21, 2007
Agapito Soto served proudly for 20 Years—then he enlisted a staffing firm to start his second career.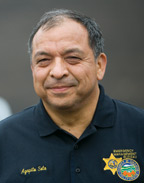 Agapito (Gapo) Soto promised his wife he'd retire after 20 years in the U.S. Marine Corps. But what would he do next? Always intrigued by technology, he decided to study to become a computer and network technician. Soon, with the help of a staffing firm specializing in tech talent, Gapo landed a job with the Orange County Sheriff's Department in Southern California.
The job was a perfect follow-on to Gapo's Marine Corps career. It required esprit de corps, dedication, and commitment. And it often required him to go above and beyond the call of duty, as he did when providing tech support on the front lines of wildfires in California.
The Orange County position has been an ideal choice for Gapo, one he's stuck with for five years despite numerous other offers. He's reassured, though, to know it's not his only choice. "Things worked out well for me, but it was good to know that I had the option to go back to my staffing firm for another assignment if I had wanted to."
Learn more about Gapo—read a news release announcing him as the 2007 National Staffing Employee of the Year.
The 2007 National Staffing Employee of the Year is sponsored by the Inavero Institute for Service Research, a leading provider of feedback systems designed to capture the voice of clients and employees.