Best practices, legal updates, health care reform, how-tos, marketing, analysis and trends, and more—if there's a topic important to staffing firms and staffing professionals, you'll likely find it covered in ASA's hundreds of webinars and recorded sessions from Staffing World and the ASA Staffing Law Conference.
---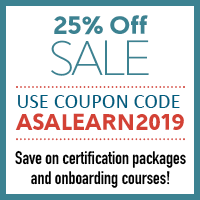 25% Off Sale: Save on ASA Professional Development in December
Now is the perfect time to invest in yourself, your company, and your future success. From Dec. 1–31, get a 25% discount on certification study tools and exams; mugs, cups, and frames to display your earned credential; and ASA Onboarding Courses. Use promotion code ASALEARN2019 in the ASA Store by Dec. 31.
ASA Webinars are scheduled in Eastern Time
 ASA Staffing Law Conference Recordings
The ASA Staffing Law Conference is the only event dedicated exclusively to the legal and regulatory issues facing staffing, recruiting, and workforce solutions companies.
 Staffing World Recordings
Staffing World is the largest, most comprehensive convention and expo in the staffing, recruiting, and workforce solutions industry.