The purpose of the ASA women in leadership interest group is to bring visibility to the value of women leaders in the global staffing industry and to provide education and support tools to those companies committed to expanding and developing opportunities for diverse and female leaders. The group aims to create more gender balanced and diverse leadership organizations across the industry.
---
Enroll as a member of the interest group by updating your profile on ASA Central, or email s*******@americanstaffing.net. Joining the interest group is a free benefit of your ASA membership.
Already a member of the women in leadership interest group? Visit the interest group community on ASA Central and begin networking with your fellow peers!
Get Involved
The interest group is led by a council who will share their experiences and expertise as advisers and mentors for each other and for other leaders in the industry. In addition, the council will work to provide more professional development and educational opportunities to strengthen the skills of and advance women leaders.
Interested in volunteering with ASA? Learn more about volunteering with ASA and opt-in to hear about future opportunities on ASA Central.
Upcoming Education and Networking Events
Education programs and networking events are continuously being planned.
Mentor Match
The women in leadership interest group is pleased to announce a new mentoring program for all ASA members—Mentor Match. Mentor Match is an online tool that connects mentors and mentees to share experiences and provide guidance to industry peers for career development.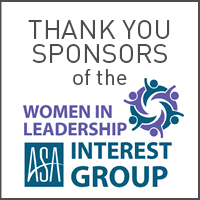 Mentor Match allows you to make valuable industry connections, define career goals, enhance leadership skills, and gain insight from staffing peers. The program is about growing professionally and networking with fellow ASA members. In order to maintain the integrity and spirit of the Mentor Match program, it should not be used for job search assistance or for business consulting insights.
Learn more about Mentor Match and enroll as a mentor or mentee today. Questions? Contact s*******@americanstaffing.net.