Display Your ASA Credentials
ASA certification is a powerful marketing tool.
Display your ASA certification credentials proudly to help advance your career within your organization, and to impress clients and prospects with your qualifications.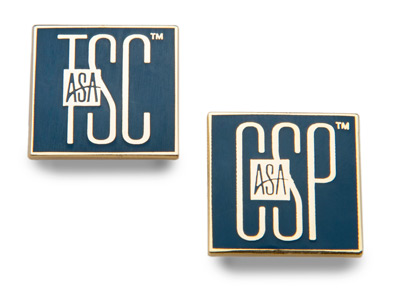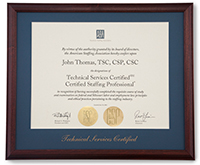 Here are some ways to leverage your certification:
Use the official CSP®, TSC℠, CHP®, or CSC® certification logos with your name on business cards, stationery, websites, brochures and advertising. Download credential logos »
Purchase CSP®, TSC℠, CHP®, or CSC® lapel pins, travel mugs and plastic tumblers, and cherry-wood certificate frames to display your credential(s). Visit the ASA Store »
Personalize a sample news release that you can distribute to local media and clients to announce your important professional achievement. View sample news releases »
Download an ASA fact sheet to share with your clients and candidates about the details of your earned credential. Download Fact Sheet »
Download the ASA certification brochure to share with your client and candidates. Download digital certification brochure »
Please note: Only staffing professionals who have successfully completed one or more certification exams may display the ASA certification logos.