September 26, 2019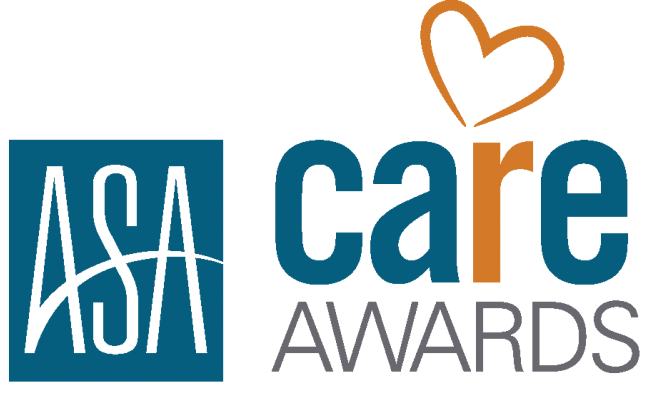 The American Staffing Association recognized staffing agency and industry supplier members with ASA Care Awards for exceptional social responsibility initiatives of 2019. The winners will be recognized during Staffing World® 2019, the annual ASA convention and expo, Oct. 15‒17, in Las Vegas.
2019 ASA Care Award Honorees
Staffing Agencies With More Than $100 Million in Annual Sales
AMN Healthcare, "Guatemala: 2018 Team Hope Mission"—ASA Care Award
Advanced Group, "Diversity and Inclusion Committee"—honorable mention
Staffing Agencies With $25 Million–$100 Million in Annual Sales
Rangam Consultants Inc., "SourceAbled for Neuro-Inclusion in the Workplace"—ASA Care Award
HireLevel, "HireLevel 2nd Chance"—honorable mention
Staffing Agencies With $7.5 Million–$25 Million in Annual Sales
Antenna, "Good Works"—ASA Care Award
Alignstaffing, "AlignHearts"—honorable mention
Gage Personnel, "Gage Giving Program"—honorable mention
Staffing Agencies With Less Than $7.5 Million in Annual Sales
Advent Talent Group, "Breaking Barriers"—ASA Care Award
Hatch Staffing Services, "HatchLIFE"—ASA Care Award
ON ITS AXIS, "ON ITS AXIS ‒ Commitment to Giving"—honorable mention
Associate Members (Industry Suppliers)
Assurance, "Assurance Caring Together"—ASA Care Award
Avionté, "Avionté Hope Foundation"—ASA Care Award
"ASA congratulates the 2019 ASA Care Award honorees for their outstanding social responsibility programs and for being wonderful examples of corporate citizenship in the staffing industry," said Richard Wahlquist, ASA president and chief executive officer. "These winning programs show how the staffing industry is making a difference in the lives of people and in society, both in the U.S. and around the globe."
For more information about the ASA Care Awards program, visit americanstaffing.net/careawards.
# # #
About the American Staffing Association (ASA)
The American Staffing Association is the voice of the U.S. staffing, recruiting, and workforce solutions industry. ASA and its state affiliates advance the interests of the industry across all sectors through advocacy, research, education, and the promotion of high standards of legal, ethical, and professional practices. For more information about ASA, visit americanstaffing.net.
Sorry, the content you've selected is for members only. Maybe it's time to join! Or if you're already a member, please log in. Join today to get access to all ASA webinars and on-demand presentations. The ASA Resource Llibrary includes hundreds of presentations that members can view at their convenience and at no charge. Valuable webinars… More ›
1.0 Passive CE
Aug 13, 2019
recurring revenue/sales
Topics:
Compensation (Rewards & Incentives)
Sorry, the content you've selected is for members only. Maybe it's time to join! Or if you're already a member, please log in. Join today for full access to exclusive ASA members-only resources. ASA Central, the industry's dynamic online community Valuable guidelines on best practices, contracts, social media policy, and more Marketing tools to streamline and… More ›
Topics:
Compensation (Rewards & Incentives)