Brittney Bourgeois has found a way to optimize her achievements as a speech-language pathologist who works with special needs children, and it's rooted in a valuable relationship with her staffing company. Meet the 2018 National Staffing Employee of the Year.
---
There's a preschool-aged boy who really makes Brittney Bourgeois' face light up. He is one of her students.
It's easy to spot him. On a good day he will yell out things like: "Stop it, Brittney!" and "I want to run out the door!"
That's a huge win, considering the boy didn't speak at all at age three and a half. Now, empowered with words, he can make his feelings known. "Now he's so stubborn, he cracks me up!" Bourgeois delights. "It still never ceases to amaze me, just to hear him talk and express himself." A contract speech-language pathologist in the St. Louis, MO, school district, Bourgeois is the 2018 National Staffing Employee of the Year.
It's the first time in nearly a decade that the National Staffing Employee of the Year has come from the health care staffing sector. And it's very well deserved, according to anyone who has worked with Bourgeois—and especially the team at the St. Louis branch office of Supplemental Health Care. The health care staffing company is headquartered in Park City, UT, and has more than 60 branch offices nationwide.
"Her kind, caring personality just fits right in with the work that she does," says Natalie Ehlenbeck, senior market manager at Supplemental Health Care in St. Louis. "She can create an environment where her students thrive. We have people who fight to get her into their schools, just because she is so remarkable in the way she goes about doing her work."
It's not only teachers, parents, and children who are impressed with Bourgeois. At Staffing World® in Chicago last October, she brought more than 2,000 industry professionals to their feet as she accepted her National Staffing Employee of the Year award. It was a shining moment for an outstanding professional, contract employee, mother, and spouse—made possible by dedication, hard work, and a valuable relationship with her staffing company.

Pursuing Happiness, With a Twist
Bourgeois and her husband are the proud parents of two little boys: one-year-old Joziah and three-year-old Jaxston. She describes her sons' names as "traditional, but with a little twist." The same could be said of Bourgeois' career path, and it also helps explain why she chose to work with a staffing company.
"I enjoy working in a school building and I like having consistency, but I also tend to be a little more creative," she says. "People say I have a little bit of a different style, and working this way gives me the flexibility to do things differently."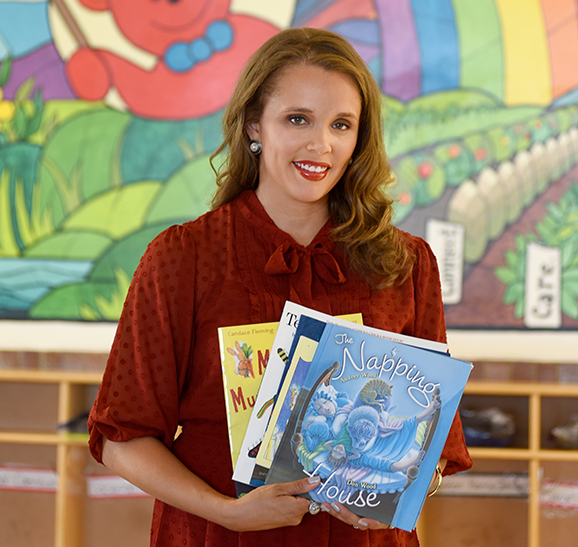 Bourgeois grew up about 20 minutes outside of St. Louis in O'Fallon, IL, where her parents, brother, and sister still live. After pursuing her education and embarking on her professional life, Bourgeois moved back to her hometown because, she says: "Family is really important to me." She drives across the Mississippi River each day to get to work, and goes running three times per week with her mom. They ran their first half marathon together last fall.
As an undergraduate at the University of Florida- Gainesville, Bourgeois first majored in journalism. However, a love of children drew her to early childhood education. From there she went on to earn a master's degree in communication sciences and disorders from the University of Central Florida in Orlando.
That's where all the pieces really came together. The attraction of journalism and a love of language aligned with her interest in kids. "I remember sitting in class with the teacher talking about language and vocabulary and syntax and morphology, and I was enthralled by all of that. It sounds kind of nerdy, but to me all of that seemed so fascinating. I loved how something that seems so simple—we just open up our mouths and talk—is actually so complex," she explains. "Communication has always been my love. It just took a while to find my path." And hers can often be a demanding path.
Unlocking Communication, Empowering Children
Consider the complexities of early childhood speech. There are so many reasons why a three-year-old child may not have words. Maybe she is on the autism spectrum. Maybe she has a developmental delay. It could be related to a neurological disorder. Or perhaps it has an emotional or psychological trigger. It's an extraordinarily complicated landscape, and every child's situation is unique.
Now consider the repercussions when a three- or four-year-old can't ask for something to drink when he's thirsty, or can't ask for a favorite toy that's gone missing, or can't tell you why he feels frightened. Kids who can't communicate like everyone else can often feel sad, angry, frustrated, and isolated. Bourgeois has about 40 children in her caseload and it's her job to somehow get their speech engines unlocked. It's a job that would discourage many people, but she takes it in stride.
"A lot of my preschoolers have no words. They can't say anything, and you can imagine how frustrating that is for a child who cannot tell you when they are cold or tired or hungry," Bourgeois explains. "My whole goal is to help them be able to function in the classroom as well as at home. So much of school is about language. Kids have to explain themselves, they have to analyze and problem-solve—and if your language skills are weak, it can be so difficult to perform."
Those who have seen her in action say Bourgeois shows a profound passion for ensuring that the kids in her care develop the skills they need to succeed. "You can definitely tell that the kids on her caseload come first," says Dan Riddle, assistant market manager in the St. Louis office of Supplemental Health Care. "She works in the inner city here and I know she has had offers to work in areas that others might consider more desirable, but she has a deep level of commitment to the kids that she works with."
Bourgeois says she's honored and grateful for the
recognition she has received as the 2018 National Staffing Employee of the Year,
especially because it shines a spotlight on the
critical role speech-language pathologists have in the lives of children
with communication challenges.

That commitment demands a hands-on approach. Speech pathologists spend a lot of time sitting on the floor, playing with toys. The goal is to help kids connect with the world around them, and then slowly and persistently attach words to those worldly objects.
"Another child will say: 'Look at that dog. Look at that door.' These kids don't have those skills, so I need to teach them to interact with their surroundings. I teach them to play with cars and bubbles and pretend food—and all that playing, in turn, encourages communication," Bourgeois says. "That's how children learn, regardless of their rate of learning. They play. That's their job. It's what they do, and we can use that to help them learn."
Bourgeois also must be tuned in to her students' unique needs and situations. No two days at work are ever the same.
"What attracted me to speech therapy is how broad and complex it is, how every child is so different," she explains. "But that means I have to treat all those different problems and figure out what every child needs. They may not have a steady home life. They might not have food on the table. Sometimes these kids just really need a lot of love because of what is going on outside of the classroom. There are days where maybe I had a whole session planned with specific skills, and instead I'm just going to sit and play quietly and give the child a hug."
Embracing Technology and Flexibility
As in virtually every aspect of daily life, technology continues to play an increasingly important role in how Bourgeois engages with her students. She has developed expertise in augmentative and alternative communication devices so that she can implement these tech strategies to help spark her students' linguistic abilities.
"There are apps on iPads that allow a child to speak, but I tend to work more with dedicated communication devices. It looks like a tablet, but it has a whole language system on it. The child presses buttons to say: I want bubbles. I feel happy. I feel mad," she explains.
Bourgeois brought one of these devices on stage with her when she accepted the 2018 National Staffing Employee of the Year award at the ASA annual convention in October. She inspired the audience of staffing and recruiting professionals with her story and then used the device to say, "Thank you."
"She didn't just want to accept the award. She wanted to represent the children," says Lesa Francis, CSP, president and chief executive officer of Supplemental Health Care. "She really wanted to help us understand and experience what the children go through."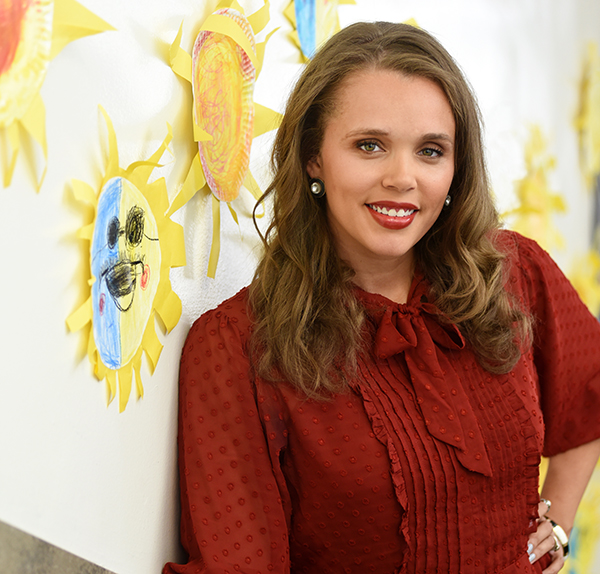 For most speech-language pathologists, the traditional career path includes taking a job directly with a private agency, hospital, or school district. Bourgeois tried it that way—working first with a nonprofit organization and then later doing home visits for a private company. The latter required too much time on the road, and the former proved too inflexible.
"I was not being placed in the right buildings, I didn't feel supported," explains Bourgeois. "There were a lot of challenges in the schools that I was in. These were language immersion programs, so you have children with communication disorders whose entire curriculum is being taught in Chinese or Spanish or French. Bilingualism is wonderful for brain development, but it was not an environment that empowered me in the therapy that I was doing." Supplemental Health Care changed the equation
dramatically, freeing her time, giving her more options, and ensuring that the jobs she took on were ones where she felt empowered to succeed.
"It's primarily about the flexibility. I have two young children and in this arrangement, I can bill my own hours and do what I need to do to help take care of my family," she explains. When her husband James was facing possible back surgery, Bourgeois needed the flexibility to take him to various doctors' appointments. She says her staffing company is always supportive.
"If I ever have any issues, I know I can go to them," she says. "When I was pregnant with my one-year-old, and the district put me at a school with high school students who were a little more aggressive, I only had to make one call to Supplemental and I was immediately put somewhere else. They always have my back."
Bourgeois says she's honored and grateful for the recognition she has received as the 2018 National Staffing Employee of the Year, especially because it shines a spotlight on the critical role speech language pathologists have in the lives of children with communication challenges.
"I know so many passionate speech therapists," she says. "I'm especially thankful for this because it gives me the chance to spread the word about what we do."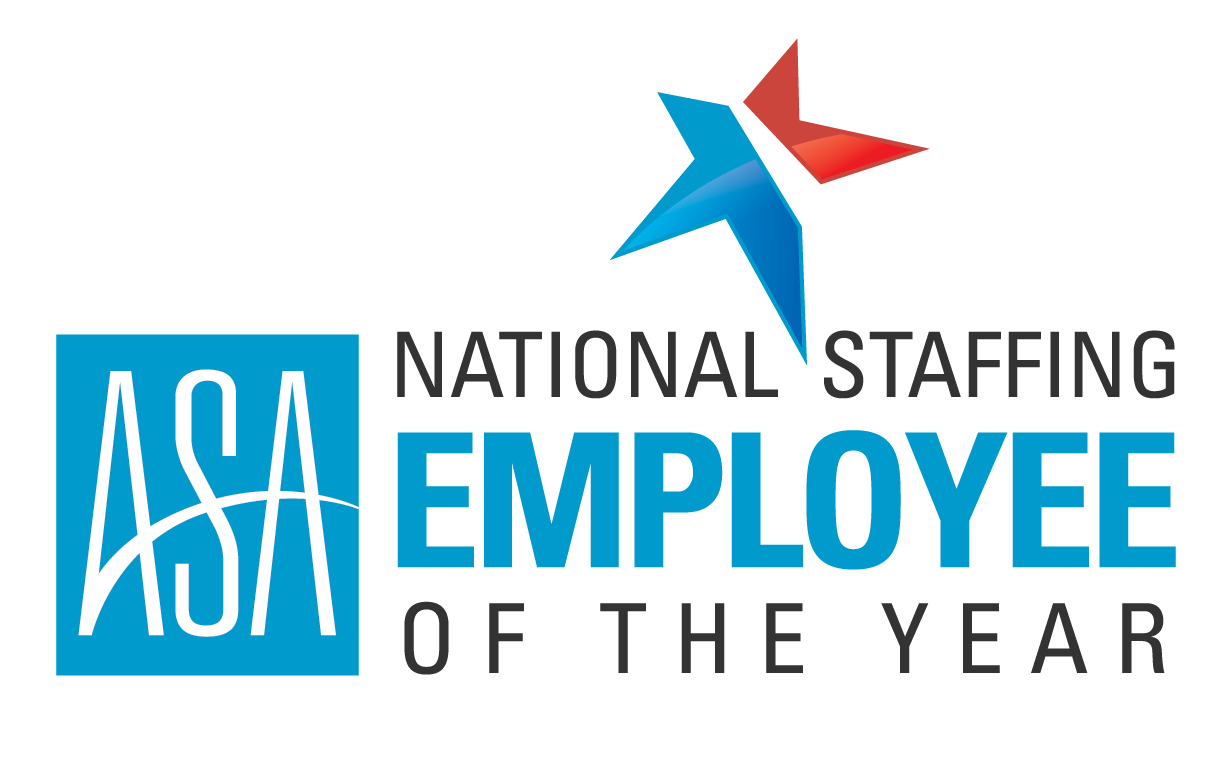 Do You Know the Next National Staffing Employee of the Year?
The National Staffing Employee of the Year is a temporary or contract employee who has an extraordinary staffing success story to share. Learn more about how to nominate one of your company's temporary or contract employees at americanstaffing.net/awards.
Nominations are due Aug. 1.
The 2019 National Staffing Employee of the Year honoree will receive national recognition, as well as an awards package, including:
All-expenses-paid deluxe travel and hotel accommodations for Staffing World 2018, Oct. 16–18 in metro Washington, DC
$5,000 gift card
Cover story in Staffing Success, the flagship magazine of ASA
News release coverage, as well as coverage ithe Staffing Today newsletter and other ASA media
Recognition during National Staffing Employee Week, Sept. 18–24, which celebrates the contributions of the millions of temporary and contract employees oassignment each business day
Learn more and read about past National Staffing Employee of the Year honorees at americanstaffing.net/NSEY.

---
Adam Stone, a freelance writer based in Annapolis, MD, is a regular contributor to Staffing Success. Send your feedback on this article to s******@americanstaffing.net. Engage with ASA on social media—go to americanstaffing.net/social.