T
he advent of Covid-19vaccines added a new resource to employers' toolkits to minimize the risk of exposure to and spread of Covid-19 in the workplace. The Centers for Disease Control and Prevention describes Covid-19vaccination as an added layer of protection against the virus, and encourages vaccination as a safe and effective way of preventing the spread of the disease. By law, employers are required to provide a healthy and safe workplace, consistent with the Occupational Safety and Health Act's general duty clause. For staffing firms, in particular, this responsibility may be shared with clients. Accordingly, it is imperative that firms promote vaccine literacy and develop clear policies on Covid-19 vaccination.
---
Firms should explain the benefits of Covid-19 vaccination (such as preventing and protecting against the virus and helping to end the pandemic) to promote confidence in the decision to get vaccinated.
When communicating with employees about Covid-19 vaccination, firms should:
Provide clear, thorough, and correct information about vaccination. Misinformation not only threatens vaccination efforts, but also undermines public trust in vaccines. While geared to essential workers, the CDC has put together a Covid-19 vaccine toolkit to help employers educate employees, including materials for communicating with employees about vaccination. These materials can be tweaked for all types of workers—not just essential workers.
Explain the benefits of vaccination. In light of heightened safety concerns surrounding the "warp speed" of the development and authorization of Covid-19 vaccines, as well as politicization of the issue, employees may be hesitant to give the Covid-19 vaccine a shot. Firms should explain the benefits of Covid-19 vaccination (such as preventing and protecting against the virus and helping to end the pandemic) to promote confidence in the decision to get vaccinated. Firms should also direct employees to where they can find more information about vaccine side effects and risks. It is imperative that employees obtain, process, and understand basic vaccine information needed to make appropriate health decisions. Knowledge is power.
Address concerns about vaccination head-on. When an employee raises concerns about vaccination, firms should address the reasons for the employee's concerns directly with the employee. If the employee raises a concern about a mandatory vaccination requirement, firms should be particularly mindful of antidiscrimination laws, such as the Americans with Disabilities Act and Title VII of the Civil Rights Act of 1964. The ADA may require covered employers to provide a reasonable accommodation to qualified individuals with a disability, and Title VII may require covered employers to reasonably accommodate qualified individuals' sin-cerely held religious beliefs, absent undue hardship. After receiving a request for an accommodation, firms should engage in an interactive dialogue with the employee to explore reasonable accommodations on a case-by-case basis. Failing to reasonably accommodate a qualified individual, as well as taking an adverse employment action against an individual on the basis of his or her disability or religious belief, runs the risk of a discrimination claim. An employee's pregnancy or other underlying health conditions may have similar considerations, and the employer should consult state and local law as well.
Minimize collection of medical and genetic information. The ADA and Title II of the Genetic Information Nondiscrimination Act of 2008 protect against discrimination on the basis of disability and genetic information, respectively. Accordingly, firms should train recruiters and managers not to ask vaccine-related questions that are likely to elicit information about a disability or genetic information, such as whyan employee did not receive a vaccination—which in turn could influence an employment decision. The less information the better, unless in the limited context of a discussion about a reasonable accommodation. This does not preclude recruiters from asking questions as to the ability of an applicant to perform job-related functions.
Remind employees of the ability to use paid time off or vaccine leaves to promote vaccination efforts. The American Rescue Plan Act of 2021 allows employers covered by the Families First Coronavirus Response Act to take advantage of tax credits through Sept. 30, 2021, for providing employees with leave to obtain "immunization related to Covid–19." While the requirement to provide FFCRA leave expired on Dec. 31, 2020, covered employers may voluntarily provide such leave and obtain the associated tax credits. In addition, some states (e.g., New York) require employees to be provided with paid leave to get vaccinated for Covid-19. When employees are informed of the leave available, they do not have to worry about losing wages for taking time off to go get the vaccine. Further, if the vaccine is mandatory, firms should clearly explain their compensation practices with respect to those efforts.

When communicating with clients about Covid-19 vaccination, firms should:
Ensure continued compliance with all applicable infection control measures at the client site. While the CDC substantially relaxed certain Covid-19 prevention guidelines for vaccinated individuals on May 13, 2021, states and municipalities may continue to enforce such guidelines—including face coverings, screenings, and social distancing. In addition, firms and clients may continue to require adherence to such guidelines at client sites. As the health and safety of temporary employees is largely the shared responsibility of the staffing firm and the client, both will need to work together to ensure a safe and healthy work environment.
Discuss whether proof of vaccination will be required. Under federal law, employers may ask or require an employee to provide proof of vaccination. Simply requesting proof of vaccination is generally not a disability related inquiry under the ADA, or the use, acquisition, or disclosure of genetic information under GINA. Information about vaccination status should be kept confidential to the extent practicable and required by law.
Coordinate your firm's policies, if any, on Covid-19 vaccination. Policies on Covid-19 vaccination might not always align. While some staffing firms may opt to strongly encourage vaccination on a voluntary basis, clients may choose to require vaccination as a condition of entering the workplace, and vice versa. Staffing firms will likely need to coordinate vaccination policies with clients to ensure alignment. Moreover, if implementing a mandatory vaccination program, staffing firms will need to consider a host of legal issues, including, without limitation, state or local law requirements or restrictions on vaccination; discrimination and reasonable accommodation issues; wage and hour issues (such as compensation for the time spent taking the vaccine); possible workers' compensation claims in the event mandated vaccination results in complications; privacy and confidentiality issues relating to employee medical and other personal information; and eligibility for unemployment insurance benefits in the event an employee's employment or assignment is terminated for failure to get vaccinated.

These same considerations apply to a staffing firm's internal employees. Given the fast-changing and dynamic nature of the pandemic response, firms must continue to monitor and seek guidance
with respect to developments at the federal, state, and local levels. With millions of Americans getting vaccinated each day, we have already begun to see significant changes in requirements and
guidelines.
---
Joel A. Klarreich, Esq., and Jason B. Klimpl, Esq., are partners at Tannenbaum Helpern Syracuse & Hirschtritt LLP. Marisa B. Sandler, Esq., an associate at the firm, assisted with the preparation of this article. Send your feedback on this article to j**@thsh.com, k*****@thsh.com, or s******@thsh.com.
This material is not intended, and should not be relied on, as legal advice. ASA members should consult with their own counsel about the legal matters discussed here.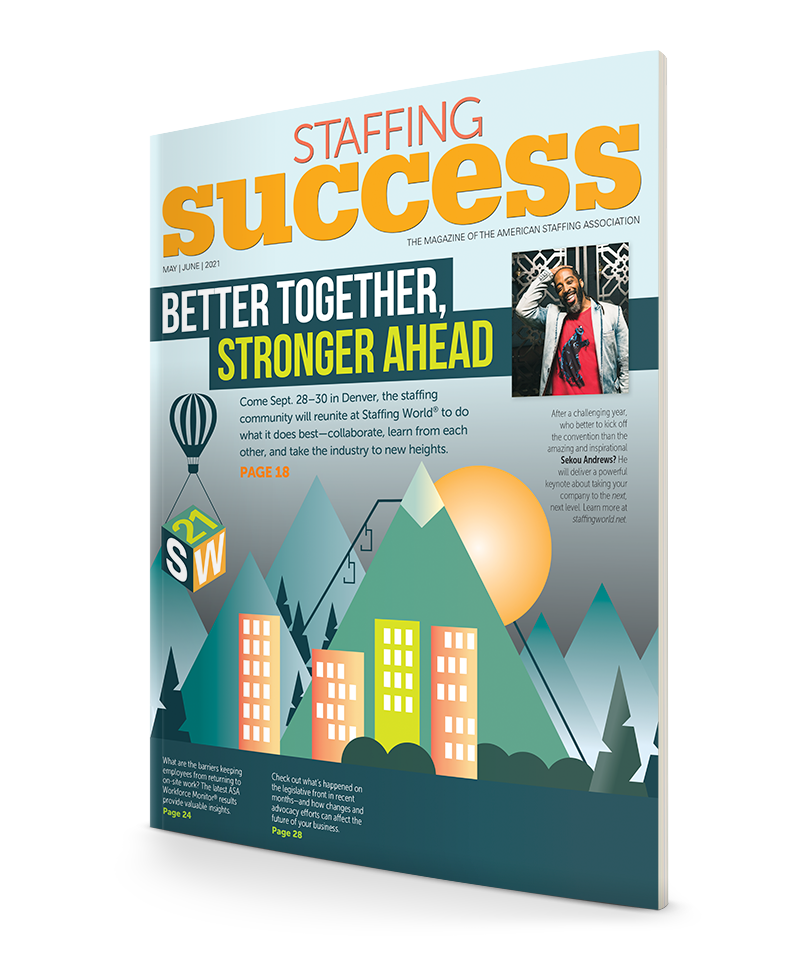 BETTER TOGETHER, STRONGER AHEAD. Let's collaborate, learn from each other, and take the industry to new heights at Staffing World® 2021 in Denver.