In this scenario, a staffing firm owner is faced with an impending deadline to train his temporary employees on workplace harassment prevention. What type of solution is available to help him quickly?
---
Carl Cubek owns Cubek Staffing, a staffing firm based in Joliet, IL, that places IT professionals. He's been keeping a close eye on the legislative landscape dealing with workplace harassment, as several states such as New York and California have mandated workplace harassment prevention training for all employees (including temporary employees). He learns that his state of Illinois has now mandated such training for all employees, which must be complete by Dec. 31, 2020.
Cubek knows he needs to find out more information about the training requirement—and quick. He turns to the ASA website and finds that the association offers a comprehensive online harassment prevention course specifically for staffing firms to use. He navigates to americanstaffing.net/harassmentprevention, where he learns a lot more.
Complying With the Law
Staffing companies have a legal obligation to comply with all applicable employment laws. And just like other types of employees, temporary employees are protected by employment laws—including those pertaining to harassment. An increasing number of states and cities are addressing the problem of workplace harassment by enacting laws requiring employers to provide harassment prevention training to their employees, and more states and cities are expected to pass such laws in the near and not-too-distant future.
In addition to requiring the education of the general workforce on harassment and acceptable behaviors, in some states managers and supervisors must receive additional specialized training on how to properly handle cases of harassment. This is because, depending on the particular facts and circumstances, a supervisor's knowledge may be imputed to the company and their actions—or inaction—may bind the company. Supervisor and manager harassment prevention training should therefore establish and communicate the process for when harassment occurs: handling complaints, investigations, and corrective measures.
Delaware, Maine, and New York have training requirements that have been in existence for some time. In Illinois, employees must be trained by Dec. 31, 2020; in California, staffing firms' internal employees must be trained by Jan. 1, 2021, and temporary employees must be trained beginning Jan. 1, 2021. Connecticut requires certain employees to be trained by Jan. 1, 2021.
In light of the "Me Too" movement and increased focus and awareness on workplace harassment, it is a best practice for staffing companies—even those in states where training is not mandated by law—to offer such training to all employees.
Even in states that do not currently have a law mandating employee harassment prevention training, in light of the "Me Too" movement and increased focus and awareness on workplace harassment, it is a best practice for staffing companies—even those in states where training is not mandated by law—to offer such training to all employees.
Using Customizable Resources
ASA has partnered with Kantola Training Solutions to provide cost-effective and state-specific online training for the workers staffing companies employ. Co-developed with Littler, the world's largest labor and employment law firm, and offered with support from World Wide Specialty Programs, the solution is easy to administer and keeps records for you—including mechanisms to track the time an employee spends on training so that you can track compensation time.
The interactive training program also allows you to
Provide the required training to your workers on your own company-branded platform
Upload learners and assign courses
Embed your policy and contact information into the course
Create and schedule customizable emails and automated reminders to candidates and employees
Track candidate and employee progress
Download status reports
Customize content to your organization
Offer certificates to download upon completion of training
Solutions Tailored to Staffing
The ASA–Kantola training product is an effective solution because of its full-service approach—something staffing companies need perhaps more than other "traditional" employers because of the complexity and often high volume of temporary and contract workers they place each day (three million individuals on assignment per day, and nearly 17 million per year). The staffing industry is thus uniquely positioned to help educate the American workforce on this important subject.
After Cubek visits the ASA website at americanstaffing.net/harassmentprevention and learns more details regarding state and local harassment training requirements and the ASA harassment prevention training program, he connects with a Kantola representative. Since Cubek Staffing is a member of ASA, he receives a discounted price for the training solution he selects, which includes both supervisor and nonsupervisor training modules. Cubek then rests easier knowing he has ensured all Cubek Staffing employees—both internal and temporary and contract workers—will better understand their rights and responsibilities in connection with harassment in the workplace.

---
Brittany Sakata, Esq., is associate general counsel for ASA. Send your feedback on this article to success@americanstaffing.net. Follow ASA on Twitter @StaffingTweets.
This material is not intended, and should not be relied on, as legal advice. ASA members should consult with their own counsel about the legal matters discussed here.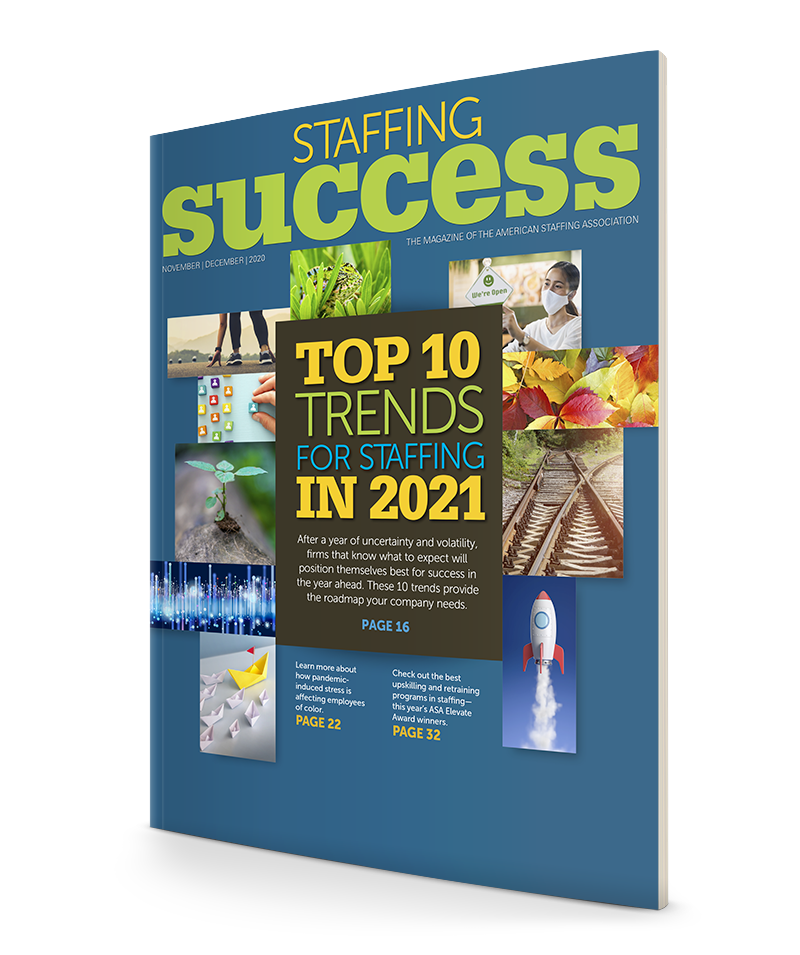 After a year of uncertainty and volatility firms that know what to expect will position themselves best for success in the year ahead. These 10 trends provide the roadmap your company needs.