The ASA Elevate Awards highlight the staffing industry's most innovative and effective training programs for temporary and contract workers. Learn from this year's success stories and make some of these strategies your own.
---
Despite the economic and social trials of the pandemic, the staffing industry has stayed on course in its efforts to nurture talent and help individuals build new skills in support of their career ambitions. Training, apprentice¬ships, certifications—all help to empower talent in their efforts to embrace a brighter future. What's more, staffing companies reap the benefits of their investment in the best possible way: They help candidates gain valuable skills to fill open reqs for staffing clients in need of skilled employees.
The ASA Elevate Awards celebrate the industry's outstanding training and skills-enhancement programs. These programs support everything from technology skill sets to industrial roles, while also delivering the soft skills workers need to succeed in today's workplace. This year's awards celebrate those staffing firms that have taken bold steps to support their workers, giving them the training they need to grow their economic opportuni¬ties and develop their careers. From managerial skills for creative workers, to practical apprenticeships, to a health-and-wellness training program in support of returning to in-person work, the Elevate Award winners showed creativity and dedication in their efforts to build a better and stronger workforce. >>>
Staffing Firms With More Than $100 Million in Annual Sales
RANDSTAD US FOR UDEMY PARTNERSHIP
In September 2020, Randstad USA partnered with content provider Udemy to begin offering its workers a range of courses aimed at the most in-demand technology skills: areas like cybersecu¬rity, full-stack development, artificial intelligence, and data science.
"We wanted to make sure that we were doing the right thing for our talent," said Jennifer Seith, senior vice president of product strategy and innovation at Randstad USA.
Staffing agency leaders knew it wasn't enough just to offer courses. They needed some¬thing people would actually use. And people have: The firm reports 2,160 people actively enrolled in coursework, spending about 23.5 hours per person, on average, consuming the materials. Together that's more than 32,000 hours of courses, Seith notes.
To make the training program perform like that, organizers bring to the table a mix of technological savvy and lots of hands-on effort—what Seith calls "technology and touch." First the team applies arti¬ficial intelligence across the employee database to match likely learners with the appropriate courses. "Then we do the 'touch' outreach with consultants who are assigned to that talent," she says. "They engage with the employees to advise them of the learning opportunities, and also to solicit feedback on the kinds of courses people are most eager to see."
"That's been interesting, because our talent has advised us as much as we've helped them. They told us about different classes that we needed to think about and what they're seeing in the market," Seith says.
Going forward, the staffing firm will be looking to grow and diversify the program beyond the current technology-oriented fields, perhaps expanding into manufacturing and logistics. Organizers are looking to help people tran¬sition their careers: If robots are the future of the automotive industry, for example, people will need to know how to operate those robots.
"We will probably start doing some outreach into other areas and other types of talent," Seith adds. "We'll continue to expand, offering our talent more insights as well as more coaching to help them get to that next level, using the skills we've provided for them."
Staffing Firms With $25 Million to $100 Million in Annual Sales
HAMILTON-RYKER FOR TALENTGRO APPRENTICESHIPS AND INTERMEDIARY SERVICES
A leading provider of industrial, administra¬tive, and professional staffing, Hamilton-Ryker launched its workforce development division TalentGro with an eye toward building prac¬tical skills. A registered apprenticeship program approved by the U.S. Department of Labor, TalentGro pairs clients with workers in a variety of work-based learning programs.
"This is for employees who are hoping to grow into a new career, which of course requires some education and on-the-job training," explains Hamilton-Ryker chief operating officer Shari Franey. "Apprenticeship programs allow these indi¬viduals to learn as they go."
The company founded the program in 2018 and in the past year it expanded the effort, launching a nonprofit organization to support those who partici¬pate.
"We wanted to be able to provide support services to those individuals who are working with us in apprenticeships. That could be transporta¬tion, or support for those having challenges around food insecurity, housing insecurity, child care—all the things that could prevent a person from going to work," Franey notes. "We have some emergency funding available and we can also connect them to resources within their community. When life happens, we're there to help them overcome their challenges and encourage them to stay in the work¬force."
The staffing firm doesn't just broker connections between its client companies and potential trainees. In support of TalentGro, the Hamilton-Ryker team also does a lot of the key backend work. That includes working state-by-state to win government approval for the program, and also tracking down potential funding sources.
"We're in the middle of about 13 different grants right now to bring funding dollars to our employers, to help with the education and the support of the program," Franey says. At the end of the day, apprenticeships offer a powerful way to help workers enhance their skills, building value for the employees, the clients, and ultimately for the staffing firm as well.
"We have clients in areas like health care where their turnover rates were at 50%, where recruiting and retention is really difficult," Franey adds. Among program graduates, retention goes to more than 85%. "Now these people are able to provide for their fami¬lies. They are building their careers and becoming really great participants in their communities."
Staffing Firms With $7.5 Million to $25 Million in Annual Sales
YEAR UP PROFESSIONAL RESOURCES FOR YUPRO ONRAMPS@WORK APPRENTICESHIP PROGRAM
Through its nonprofit arm, Yupro developed its Pathways at Work program to meet increasing client demand for training, as well as improve contract talent retention and career advancement. With the onset of the pandemic, the team introduced an expanded offering to meet the emerging need. Program leaders wanted to raise the bar, to ensure people could remain on the job and also create new work opportunities at a time of hiring freezes and downsizings.
"Employers were concerned about how to main¬tain their entry-level and middle-skill talent tool," explains Yupro chief executive officer Michelle Sims. "At the same time, many of our newly graduated folks were either underemployed or unemployed because of the pandemic."
The team answered by creating the Yupro OnRamps@Work apprenticeship program. The program offers professional development, including both soft- and hard-skill development opportunities, within a 26-week paid apprenticeship. Apprentices earn a wage of $18.50 or higher, providing them with financial stability as they pursue a program offering an express pathway toward full-time employment upon successful completion.
In addition to earning technical certifications in software development, cybersecurity, and other in-demand skills, participants also hear from guest speakers who help them to develop their profes¬sional skills. Plus, the apprenticeship program supports employers in a number of ways.
First, given Yupro's client base, the effort helps companies to meet their corporate social respon¬sibility goals by giving them access to underrepre¬sented talent. The training effort also helps to widen the pipeline for potential talent, giving employers access to a broader base of potential hires.
"Rather than focus on the four-year-degree mentality, we work with employers to look at their job descriptions for entry-level talent positions," Sims says. "Do you really need a four-year degree? Or could we build an apprenticeship program with a certification baked in? Then with upskilling and professional development, you can build on their skills."
In this way, "we're essentially helping them build and train their entry-level talent pipeline with underrepresented talent," she adds. "We're trying to adjust the mentality of executives so that, rather than focus on that four-year degree, they can grow talent from within."
The program has been successful with employers and workers from the outset: It's already placed 100 workers and there are 160 new apprentices in the pipeline. Currently, 41 partners are hosting Yupro apprentices. Going forward, the team is looking to build on that success. Yupro has built an internal apprenticeship opera¬tions team and is seeking government recognition as a certified apprenticeship program.
While employers benefit through enhanced access to a ready talent pool, the biggest impact has been on the program participants themselves.
"In the latest cohort, 96% of them were either unemployed or underemployed going into the program," Sims notes. "So there is a big impact on people's lives: They're earning a family-sustaining wage, and going into a career that will continue to build."
Staffing Firms With Less than $7.5 Million in Annual Sales
PPL EVENTS INC. FOR HEALTH AMBASSADOR PROGRAM
Staffing firm PPL Events specializes in providing personnel for live events. Covid-19 brought all that to an abrupt halt. "We went from millions of dollars in contracts to zero, in a matter of weeks," says Diego Errea, vice president of operations at PPL Events.
The staffing company pivoted quickly, launching a training program that kept the bottom line alive while also providing a much-needed service to the company's customers and the community at large. At the peak of the pandemic, the company had more than 100 "health ambassadors" deployed to help businesses navigate toward a safe reopening.
"We wanted to be proactive not just in helping our staff understand the protocols and procedures so that they could be safe, but also in sharing that information with others," Errea explains. The ambassadors train businesses on best practices in coping with the pandemic. They share tools and techniques to help minimize the spread of disease, from keeping a head count and enforcing guest capacity to managing social distancing and identifying bottlenecks and problem areas.
It took some heavy lifting to deliver this service effectively. Especially in the early days of Covid, the guidelines were a moving target, and the team often was learning the rules of the road right alongside health officials who were themselves struggling to get up-to-speed.
Moreover, as a national organization, PPL Events needs its ambassadors to be fluent in the different rules and requirements that extend across varying jurisdictions. "We had to not only really dig deep into what the CDC was saying, but also into the protocols for each specific location," Errea notes.
At the end of the day, the training program helped to keep the company afloat during lock¬down and, equally important, it delivered a much-needed community benefit. "For these businesses, this program was key to their reopening safely," he adds. "A lot of this is about public perception, and we were able to help shape that, so that people could feel like they were truly walking into safe spaces."
Staffing Firms With More Than $100 Million in Annual Sales
ADECCO GROUP US FOUNDATION FOR FORKLIFT UPSKILLING PROGRAM
There's a critical shortage of forklift operators and similarly skilled workers, and Adecco Group US Foun¬dation is looking to bridge the gap. Launched in 2020, its aptly named Forklift Upskilling Program targets underemployed workers for training and advancement. Participants can get OSHA certified, setting them up for improved wages and a better future.
"One of the pillars in the foundation is our effort to identify skills gaps and to support people in gaining those needed skills," says Karen Jones, the foundation's director of workforce strategies and employment solutions.
Employers bring their needs to the foundation, and Adecco's risk management group helps drive the program, identifying OSHA-qualified trainers in markets around the nation. Trainees take part in courses that typically last eight hours, half of it in the classroom and half on the equipment.
To deliver efficiently on this highly customized effort, Adecco has built in a "train-the-trainers" component. Of the 50 or so people who've gone through the program, 10 have trained to serve as instructors themselves. They in turn have trained others within their organizations.
The program is a net win for the staffing company. "If you weren't able to fill those jobs previously, you're now able to fill them. And you're moving people into higher-paying jobs, which means a higher bill rate," Jones said.
But the foundation looks to the employees them¬selves as the key metric of success. "What we calcu¬late at the end of the year is: How much did we increase wages, for how many people? How did we change their lives through this upskilling program?" Jones poses. Thus far, program participants have seen salary increases of $3 to $4 an hour. "For someone who is a low- to mid-skill worker, that is just huge," adds Jones.
The program has boosted retention in participating companies, and it also has helped to move the needle on gender inclusivity, in a field traditionally domi¬nated by men. "Of the 50 people we've upskilled, six of them were women," Jones says. "We're proud to be opening the doors to people who traditionally wouldn't have access to these positions."
CELLA FOR MANAGED IN-HOUSE AGENCY MASTER'S SUMMIT
Leadership at Cella established the MIA Master's Summit in support of the staffing firm's in-house agency engagements. The two-day training program teaches creative professions to be more effective on the job. It covers soft skills—how to lead their teams, how to manage client relationships—and it also addresses practical topics around operational and organizational infrastructure.
"There is not a lot of opportunity for people in the creative services space to get leadership and mana¬gerial training and coaching," says Andy Epstein, senior director of managed services. "At Cella, we're really excited that we were able to fill that gap for our team members. It makes them more market¬able, and it really enhances their performance on the job."
Founded in 2015, the program took on a new focus in the past year. Training now puts a greater emphasis on the collaboration between Cella's creative leaders and the marketing professionals at the partner organizations where they are embedded.
"Recently, we've seen a greater amount of collab¬oration occurring between the marketing groups and the creative teams. We're looking to provide information and guidance on how to optimize those relationships," Epstein notes.
In the past, clients would bring in creative teams toward the end of the process: The creatives would step up to execute once the strategic direction had been mapped out. "Now we're looking to become part of the process farther upstream in the development of a marketing campaign," Epstein adds. "We want our creative team to be able to advise the marketers, to help determine what the messaging should be and what the design of the piece should look like."
By taking the summit up to this higher level of engagement, Cella opens new doors of opportunity for its team members. "Now they not only have the current tools they need to execute on those creative deliverables," Epstein says. "They also can be stra¬tegic partners, providing a deeper level of support for the marketing partners and their initiatives."
---
Adam Stone, a freelance writer based in Annapolis, MD, is a regular contributor to Staffing Success. Send feedback on this article to s******@americanstaffing.net. Engage with ASA on social media—go to americanstaffing.net/social.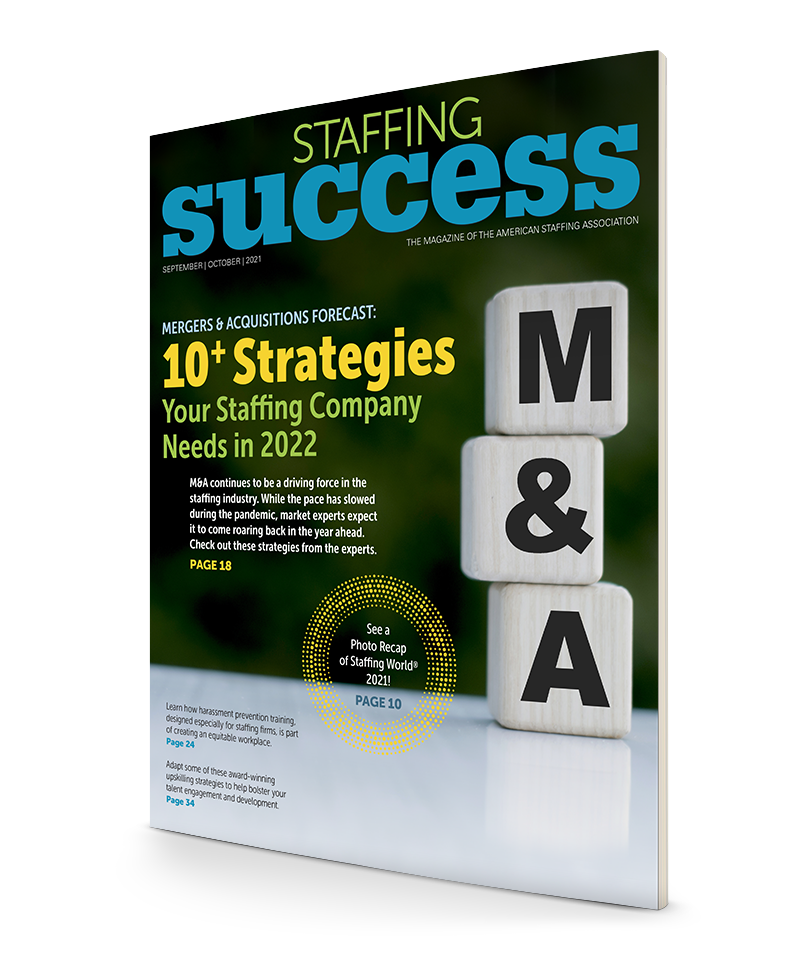 M&A continues to be a driving force in the staffing industry. While the pace has slowed during the pandemic, market experts expect it to come roaring back in the year ahead. Check out these strategies from the experts.