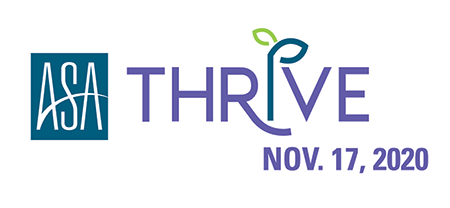 THRIVE 2020 Takes Place Nov. 17,

1:30

─

6 p.m. ET
Brought to you by the ASA Women in Leadership Interest Group, this new collaborative event delivers valuable content designed especially for women who seek to grow their leadership skills and expand their professional reach in the staffing industry. Learn from and connect with standout women leaders in the staffing industry in a collaborative virtual environment.
Subject to change
1:30 p.m.
Welcome and Introduction
---
1:45 p.m.
Power Networking Session
Qualifies for 0.50 Active CE Hour
Make connections right away and get to know your peers who have joined in this virtual opportunity.
---
2:30 p.m.
How to Bring Your Human to Work (Even If You Can't Go to Work)
Presenter: Erica Keswin
Qualifies for 1.0 Active CE hour
Get the practical strategies you need right now to deal with challenging times. The Covid crisis is happening to all of us, but it's happening to each of us in different ways, says bestselling author and presenter Erica Keswin, who will inspire you with her energetic and motivational style. In her book, Bring Your Human to Work, she discusses 10 ways to make every workplace more human—including strategies for meetings, professional development, etc.—but "being human" boils down to one thing, she says: honoring relationships. Take part in this unique session and reap the benefits of what you learn immediately as well as into your professional future. 
---
3:15 p.m
Break
---
3:25 p.m.
Powerhouse Panel:

 

Real-World

 

Strategies to Propel Your Staffing Career
Facilitated by: Leslie Vickrey, chief executive officer and founder, ClearEdge Marketing
Presenters: Janette Marx, chief executive officer, Airswift
Ranjini Poddar, co-founder and chief executive officer, Artech LLC
DeLibra Wesley, chief operating officer, Delta Cos.
Kye Mitchell, chief operations officer from Kforce Inc.
Qualifies for 1.0 Active CE hour
Hear from standout staffing executives, including Kye Mitchell, COO of Kforce Inc., Janette Marx, CEO of Airswift, Ranjini Poddar, co-founder and CEO of Artech LLC, and DeLibra Wesley, COO of the Delta Cos., who will share and discuss the challenges they have faced in their careers and how they have overcome them.
---
4:15 p.m.
Speed Talks:

Thriving Wherever You Are
Qualifies for 0.50 Active CE Hour
Maximize your THRIVE take-aways during this Speed Talk session, featuring several trailblazers who have challenges, strategies, and results to share with you. Get ready to experience this fast and furious session packed with the professional solutions you've been seeking.
---
5 p.m.
Break
---
5:10–6 p.m.
Virtual Happy Hour
Celebrate a successful day during this virtual happy hour. Invite your current "co-workers"—including your pets, kids, or spouses—as you discuss your top takeaways and plans for applying new strategies.
Are you ASA-certified? Participate in THRIVE 2020 and earn up to 3.0 continuing education hours toward maintaining your ASA credential.