September 21, 2009
Erin O'Connell provides quality care at work and at home.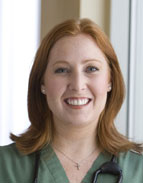 Erin, a pediatric respiratory therapist, wanted a flexible work schedule that would allow her to do what she loves—provide quality health care to special-needs children—and spend quality time at home with her husband and infant son. STAT Staffing Medical Services helped her find the perfect assignment at the Children's Institute of Pittsburgh.
During three 12–hour shifts a week, Erin serves on a team of health care professionals that attends to the needs of infants and children being rehabilitated for brain injuries, paralysis, organ transplants, and more. In addition to helping her patients, Erin trains student nurses on respiratory care and teaches the parents of special-needs children on how to provide quality care at home.
"Erin symbolizes what STAT Staffing Medical Services has been advocating for the past 10 years—temporary and contract health care professionals are highly skilled and provide high-quality care," says chief executive officer Tom Muscatello. "Erin has led by example since she started on assignment at the Children's Institute. Her dedication to her work and the children she cares for is boundless."
Erin's dedication to her family is boundless as well. And the work–life balance she gets through staffing employment affords Erin the time to fill two other important roles: wife and mother.
Learn more about Erin—read a news release announcing her as the 2009 National Staffing Employee of the Year.