September 21, 2010
Brian Reinsfelder engineers for quality, both at work and at home.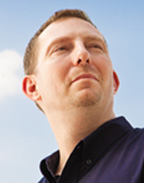 Brian is a dedicated person—in his career and as a family man. That's why a contract assignment was the perfect fit: it provided him with the opportunity to have a fulfilling career as a quality assurance engineer and gave him a flexible schedule to fulfill another important job: head cheerleader for his favorite little league baseball star, his son.
While working through Adecco Engineering & Technical in 2009, Brian was placed on assignment at a commercial aircraft company; he performed the necessary checks and balances to make sure the production of jet-engine breaks was in compliance with certification standards, and he was involved in planning, developing, and improving quality assurance systems—"an extremely important job that affects the safety of millions of people who travel on commercial aircraft" said Kernan Kelly, the Adecco Engineering & Technical account manager.
"Quality" has been the key word in both Brian's title and his work, noted Christopher Wilkins, Adecco Engineering & Technical senior technical recruiter. "Without a doubt, Brian is the prototype for the candidates a company would want to have on its team."
That's why Brian was honored as the 2010 National Staffing Employee of the Year. Being nominated "was the greatest honor I have ever received in my career," he said.