ASA Skills Gap Index
The ASA Skills Gap Index tracks the number of hardest-to-fill occupations in the U.S.
---
The index has identified the hardest-to-fill occupations in the U.S. for the fourth quarter of 2016. The two hardest-to-fill jobs in each staffing industry sector are
Engineering, information technology, and scientific
Computer and information research scientists
Information security analysts
Health care
Physician assistants
Psychiatrists
Industrial
Heavy and tractor-trailer truck drivers
Food service managers
Office–clerical and administrative
Interviewers, except eligibility and loan
Tellers
Professional–managerial
Tax preparers
Sales engineers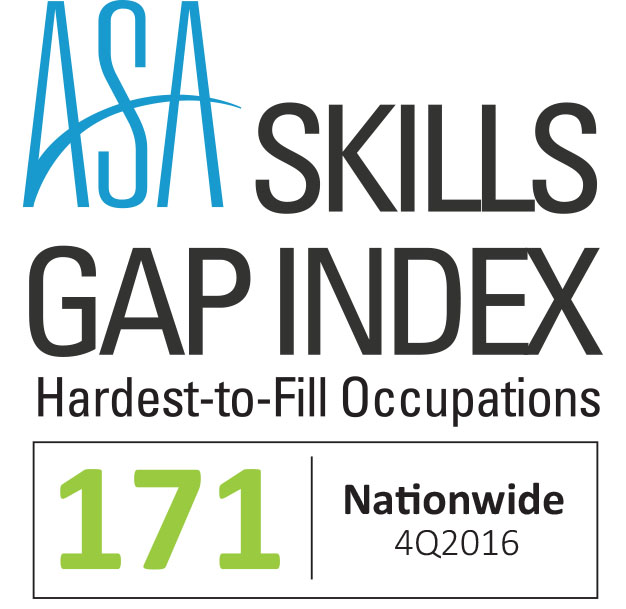 Upcoming news releases
Aug. 29, 2017
Feb. 21, 2018
---
What's included?
The report details both nationwide and regional data and includes staffing industry sector breakouts:
Health Care
Industrial
Office–Clerical and Administrative
Professional−Managerial
Engineering, Information Technology, and Scientific
Metrics
Hiring Indicator scores of 50 or less (scale of 1-100, below 50 equals hard to fill)
Demand of more than 2,000 jobs
* In September 2016, CareerBuilder implemented new guidelines for its supply and demand data methodology and salary data inputs, significantly changing hiring indicator scores and the number of hard to fill occupations.

---

The ASA Skills Gap Index draws on 90+ data sources and utilizes CareerBuilder's Supply & Demand Portal Hiring Indicator (HI) scores.