Especially as more candidates embrace technology to find work, recruiters must ensure their experience is engaging.
---
In the world of digital design, UX is short for user experience. UX assessment questions may include: How easy is it for the user to navigate and learn from the website or mobile app? How intuitive is the interface? How appealing is the overall experience?
Among many factors, UX measures and assesses how easy and enjoyable a website, software, or mobile app is for the customer. Staffing professionals—and more specifically, recruiters—are not in the business of developing software, but the candidate experience is most certainly a critical part of your success. Applicants aren't exactly "buyers," but they are making decisions on who they should work with. Every day you are competing for talent and—especially as we continue to navigate the effects of the pandemic—employers with the best UX have an advantage.
Here are some of the areas where candidate UX is the most critical.
Job Postings. Does the last job posting you created appeal to the candidate? Or is it a wish list for what you or your client wants? Can the prospective candidate quickly and easily find the most relevant jobs for them on your website? Job postings should be about how the candidate's life will improve, not what the employer expects or a list of job duties.
Online Application. Is your online application optimized for mobile? Is it easy to navigate and fill out? Is it simple—less than six fields and a résumé—or complex? Does it ask for sensitive information before it should, such as Social Security number and birth date? The faster and more easily candidates can fill out the application, the better chance you have of placing them. In fact, the ideal scenario is that they don't fill out the application at all, but rather the application is either automatically generated by applying to the position, or you complete the application shell during the interview or through parsing the candidate's résumé.
Selection. Do candidates feel valued throughout the process? Are you communicating fully and positively? Studies have consistently shown that communication (or lack of) is the top factor for candidate satisfaction.
Onboarding. Is it easy for candidates to complete the onboarding process with your firm? Do they know where to go for questions? How easy is it for them to get answers? An intuitive onboarding process that helps guide the candidate through the process is ideal and reduces applicant frustration and, ultimately, disengagement and fall-off.
Placement. Are candidates confident that they have all the information they need for their first day? Do they have a go-to person in your organization for questions and issues? Do they feel like they are your employee, the client's, or nobody's? The better prepared candidates are as they start a new assignment, the more confident and enthusiastic they will be to start their new job with your client.
Employment. Do candidates feel like they are part of your organization? Is there a sense of belonging? Employees that have a sense of belonging result in fewer no-shows, call-offs, and behavioral issues—and, overall, they are more productive and dependable.
In today's labor market, recruiters don't have the luxury of just getting a fair share of prospective talent regardless of candidate experience. Candidates have many choices, and in many cases, it comes down to how easy you are to work with and how you make them feel. We are in an era of immediate versus delayed gratification, of self-service versus full-service, of speed versus patience. By focusing on candidate UX from the very start of your recruiting cycle and throughout the placement and assignment, you can gain a significant competitive advantage in attracting and retaining top talent.
---
Tom Erb, CSP, is president of Tallann Resources, a national consulting and training firm specializing in the staffing and recruiting industry. As a consultant, trainer, and speaker, Erb has helped hundreds of companies create and execute sales and recruiting strategies to grow their business. He is the author of Winning the Staffing Sales Game: The Definitive Game Plan for Sales Success in the Staffing Industry. Learn more at tallannresources.com. Follow him on Twitter @TomErb_Tallann.
Send feedback on this article to success@americanstaffing.net. Engage with ASA on social media—go to americanstaffing.net/social.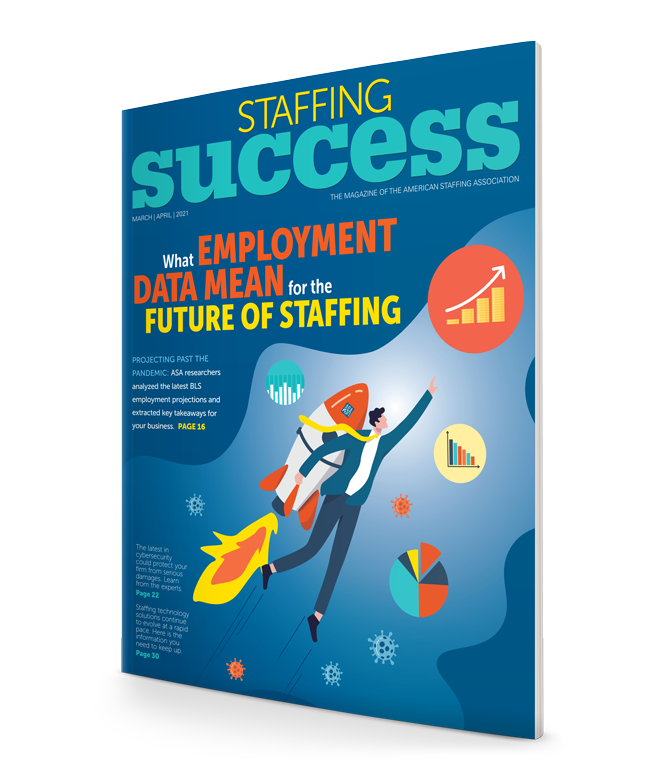 ASA researchers analyze the latest Bureau of Labor Statistics employment projections to reveal trends in job growth through 2029.