New data and analysis from the industry's satisfaction survey leader, ClearlyRated, reveals that women and minorities have fewer opportunities for advancement in the staffing industry than their white male counterparts. So it's not just about diversifying the staff you hire; what's more important is to engage, retain, and promote those employees to achieve a truly equitable and inspirational company culture.
---
As the chief executive officer of a company that links staffing agencies to job seekers nationwide, Eric Gregg knew the industry needed to be more focused on diversity, equity, and inclusion. But the pandemic and subsequent protests over racial and social justice, combined with the timely prodding of a new staff member, prompted Gregg and his co-workers to take action.
The result: a survey by ClearlyRated that provides a sobering view on the state of diversity in the staffing industry and follow-up recommendations on how to make changes. The findings show a disproportionately low percentage of staffing employees and executives are Black or Hispanic, and job satisfaction differs significantly by both race and gender.
Those who identify as Hispanic or Latino make up 17.3% of the U.S. workforce—more than double the number found in the staffing industry. Only 4.8% of the staffing employees identify as Black or African American, compared to 12.3% in the overall workforce. Just 1.4% of military veterans work in the staffing industry, compared to 8.5% in the U.S. workforce.
According to the findings, derived from more than 4,000 responses and 93 staffing firms, a higher percentage of women and minorities feel they are paid less and have fewer opportunities for advancement than their white male peers. The same holds true for those who feel leadership does not show diversity is important through its actions.
"As an industry, we have work to do," says Gregg, whose company provides client satisfaction surveys for professional services firms. "What these surveys show is that we need to look at how we recruit in a way that increases the diversity of the internal workforce, and then—once we've got them here—we have to make sure that we're measuring and building an experience for them that feels equitable no matter their race, gender, age, or identity."
Gregg admits the survey results may come as a surprise to some who feel like they are developing a diverse and inclusive workforce, but as the saying goes—the numbers don't lie.
"If you feel as an organization that you're done just because your holiday picture looks diverse enough or your numbers are diverse, you're missing the bigger picture," Gregg says. "It's not just about attracting a diverse workforce. It's about retaining them, engaging them, and advancing them—that's where the real work begins."
Digging Into the Real Work
The "real work," as Gregg characterizes it, is the result of a diversity, equity, and inclusion initiative started at ClearlyRated, the Portland, OR-based company he founded in 2003. He says the company has "been on a path to building a more equitable and inclusive future" for the past two years.
"We are by no means the gold standard on this," Gregg says. "I'm proud of what we've done thus far, but we have a long way to go. There are many organizations—and even many staffing firms—who are further along in this journey than we are, just as there are many who are not as far. To me, it is less about where you are, and more about where you are going and how you are prioritizing your efforts to get there."
Broadening the company's efforts to encompass ClearlyRated's staffing clients occurred after Brenda Errichiello urged Gregg and the leadership team to "take a risk" and speak out about the need for more diversity, equity, and inclusion.
Errichiello, who was hired as a content strategist in March 2020, had been working remotely for two months when nationwide protests erupted over the police shooting deaths of George Floyd and Breonna Taylor. She says she saw "the big impact of the work" that ClearlyRated was doing around diversity, equity, and inclusion for its staff and thought the next logical step was to expand it to the broader staffing industry.
"I was thinking about the operational benefits of what we do, the thought leadership role we're taking, and the effect that we could have when you start to think about the trickle down of talking about issues like this," she says. "In my view, here was our opportunity to take a risk and say something that could have a big trickle-down effect."
As a new employee, Errichiello says she knew she was taking a risk of her own, but Gregg and the leadership team were open to her thoughts. Even today, talking about race, diversity, and equity in the workforce brings challenges, and Gregg admits that he was initially taken aback by Errichiello's request.
As a white male CEO, he had already taken a hard look in the mirror as the company worked on its diversity efforts, but Gregg admits he was "subtly and not so subtly nudged into taking a bigger public stand" on these issues.
"Brenda had this huge impact on us and on our work," Gregg says. "I know how hard it was for her to bring it up, but she was doing the calculation of what she could do as an individual versus what we could do as a company, and she had the courage to say 'If I say something, it could lead to something bigger.' And it has."
Asking the Big Questions
For Gregg and co-workers like Errichello, the findings from the survey bring with them a variety of big questions staffing companies should consider. Among them:
How does your company recruit in a way that increases the diversity of the internal workforce?
Once you've diversified the workforce, how do you make sure that everyone is having the same experience no matter the employee's race, gender, age, or sexual identity?
What can be done to move a larger portion of women, Black, Hispanic, Asian, and LGBTQIA employees into management positions in the organization?
How you hire and recruit employees comes with "a playbook that is way easier" than solving the other two issues, Gregg says. He notes everyone involved in hiring should take part in unconscious bias training "so they aren't blind anymore and have the ability to own the biases they bring to the table."
"You need to go and invest the time in understanding what the unconscious bias is that you're putting into the entire process," he says, noting that how job descriptions are written and posted are two key areas that also need to be reviewed. "Every single person on the planet is biased. It's not that you've done anything wrong. Being biased is not the problem. Not understanding bias and allowing yourself to be part of the bias is the problem."
Once you ensure your job postings are not written in ways that exclude potential minority and women applicants, determine where your audiences are and post your vacancies there. Taking the extra step—"not just posting in the same places you normally post"—of looking for special interest groups and areas where potential applicants are spending their time will help broaden the pool.
After that work is done, Gregg says companies must remove bias by moving to a blind hiring process. Ways you can do this include removing the applicant's name and other identifying features, such as educational attainment, in the initial screening.
"Looking at a person's qualifications brings out your own inherent biases: 'That's a good school.' 'That sounds like someone who's part of my tribe.' 'I'm used to seeing this sort of background in the people I hire,'" Gregg says. "Those are all traps that perpetuate the problem."
Embracing Different Perspectives
In addition to the demographic questions in the survey, ClearlyRated asked specific questions about how the workforce views staffing companies' diversity, equity, and inclusion initiatives. The responses, Gregg says, show staffing executives need to "make space for people who are at different points in their own personal journey" around the role they "want to play in a more equitable future."
"In general, people want to have a fair opportunity to be a contributing employee in an organization. Where you lose people is when you fail to define what that actually means," he says. "We have to create a sense of belonging, and to de-risk decision-making through honest communication. Minorities and women feel a lot more risk than white men do, and we don't see that a lot of the time."
Once you have the data, you have to "really commit and bring together the people in those groups and work together to find a solution," Gregg says.
"The problem doesn't change if you have a mostly white and male leadership team, because white males check all the privilege boxes," he says. "You can't necessarily assume that your leadership team sees everything that should be seen. I'm not able to understand whether people of color, women, or single parents are having the same experience as I am. So you ask questions and let the data tell you how they feel. No one is going to know unless you ask."
Asking questions of your staff, Gregg says, helps you "start to see the aspects that are falling short." Women who were surveyed, for example, disproportionately value the flexibility of working remotely at least a portion of the time. Employees of color are more likely to value opportunities to connect with mentors. All employees are looking for opportunities to "find community" within and across different groups of staff.
"As a whole, we have not societally equipped individuals to understand what systemic racism is, to understand what white privilege and male privilege are," Gregg says. "By saying all of those things to a person who identifies as white or identifies as male, you can expect some defensiveness—but the system has been disproportionately advantageous to us."
Gregg says some become defensive because they feel like they are being forced to admit they don't deserve the career they've attained, but he cautions that privilege and hard work are "not mutually exclusive."
"The key is breaking down the defensive reaction and helping people to understand the past and moving forward while not necessarily dismissing it," he says. "Hiring practices have had biases for generations, but we need to dig deeper and see how that suffering affects the top of the pyramid rather than the bottom."
In the end, Gregg is glad that Errichiello encouraged him to broaden the work ClearlyRated was doing with its employees to the entire staffing industry.
"She hadn't been in the company for 10 years and a part of the c-suite or the company leadership team, but that doesn't mean she hasn't had a significant influence on our company going forward," he says. "She has shown me that everyone influences the work we do, and that the best ideas often can come from those who have a different perspective. It's time for all of us to look for a different perspective so we can become more well-rounded in the work we do."
---
Glenn Cook is a professional writer who has covered a wide range of business and education topics. He also is a prolific photojournalist, having created award-winning article and photography packages for national publications. Learn more about his work at glenncook.virb.com. ASA does not necessarily endorse the content of this article. Send feedback on this article to success@americanstaffing.net. Engage with ASA on social media—go to americanstaffing.net/social.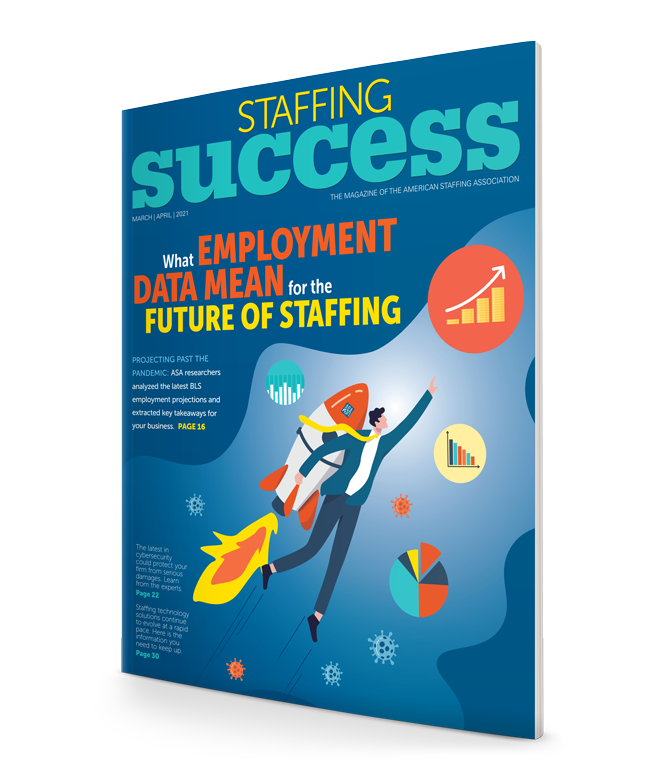 ASA researchers analyze the latest Bureau of Labor Statistics employment projections to reveal trends in job growth through 2029.