New findings and analysis from the ASA Workforce Monitor® provide valuable insights into which barriers exist for U.S. adults considering a return to on-site work, and which sources employers can tap for reliable information on work site safety as the pandemic shutdown appears to wane.
---
More than a year has passed since the Covid-19 pandemic turned the world upside down, with stay-at-home orders and business closures disrupting industries in all sectors of the economy, precipitating a widespread adoption of remote work. Now, with increasing vaccine availability helping to curb the epidemic in the U.S., there is hope that we will see signs of life in the economy as consumer spending and hiring pick up. >>>
Companies with employees temporarily working from home must now grapple with how and when to bring staff back into on-site work locations. In addition, many businesses that are seeking new employees to help meet increasing demand report that hiring for open positions is more of a challenge than ever, with millions of jobs going unfilled. The latest ASA Workforce Monitor asked U.S. adults what barriers stand between them feeling comfortable going back to work at on-site locations, and how businesses could best communicate with employees and job candidates about workplace safety.
COVID-19 TOPS
THE BARRIERS LIST
More than half of U.S. adults (54%) say there are factors creating barriers for them in returning to brick-and-mortar job locations during the ongoing pandemic.
Among those who acknowledge obstacles to working in an in-person setting, the top three are fear of catching Covid-19 at work or during their commute (57%), a preference for working at home (35%), and not yet being vaccinated against the virus (34%).
On the other hand, these issues are not preventing everyone from getting back to on-site work. One in four U.S. adults (23%) say there are no barriers keeping them from returning to brick-and-mortar work locations during the pandemic, and 13% report currently operating in that setting. However, the data are clear—for many, there is some hesitancy regarding work in an in-person setting.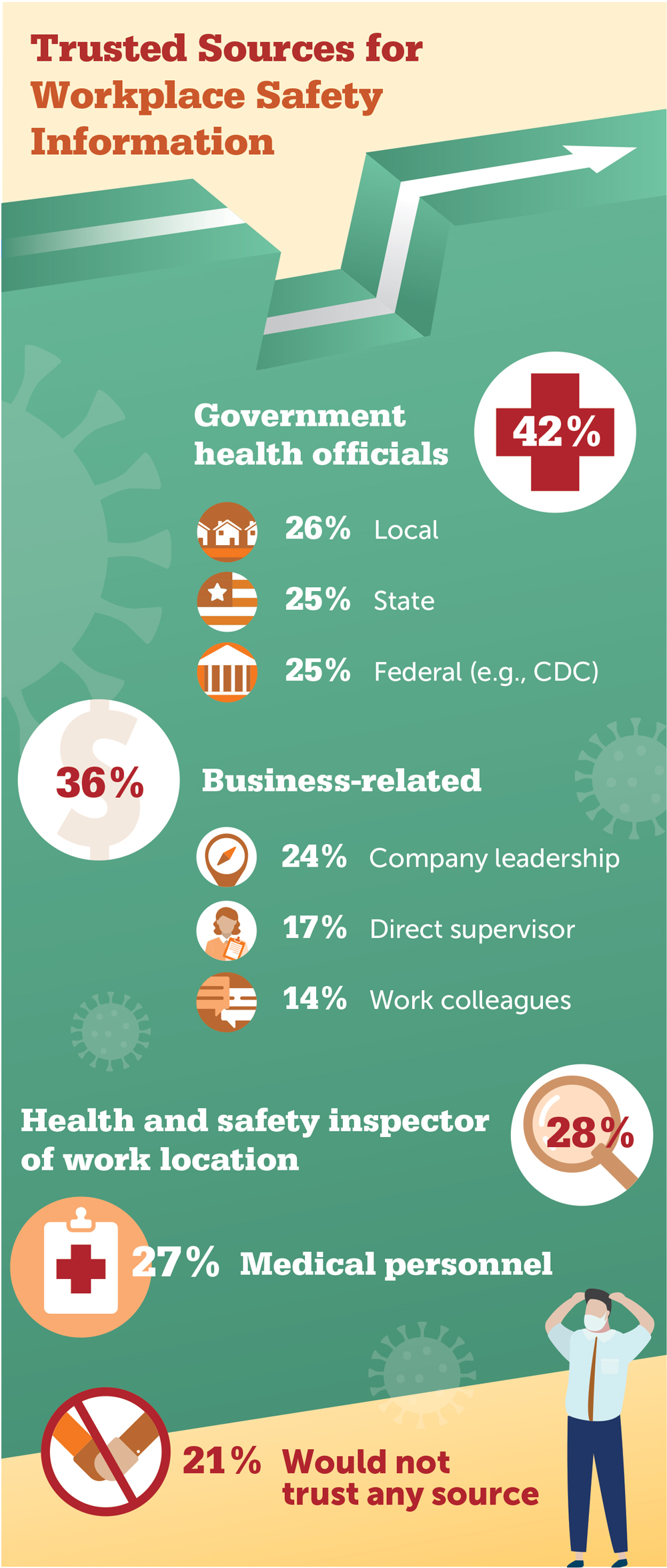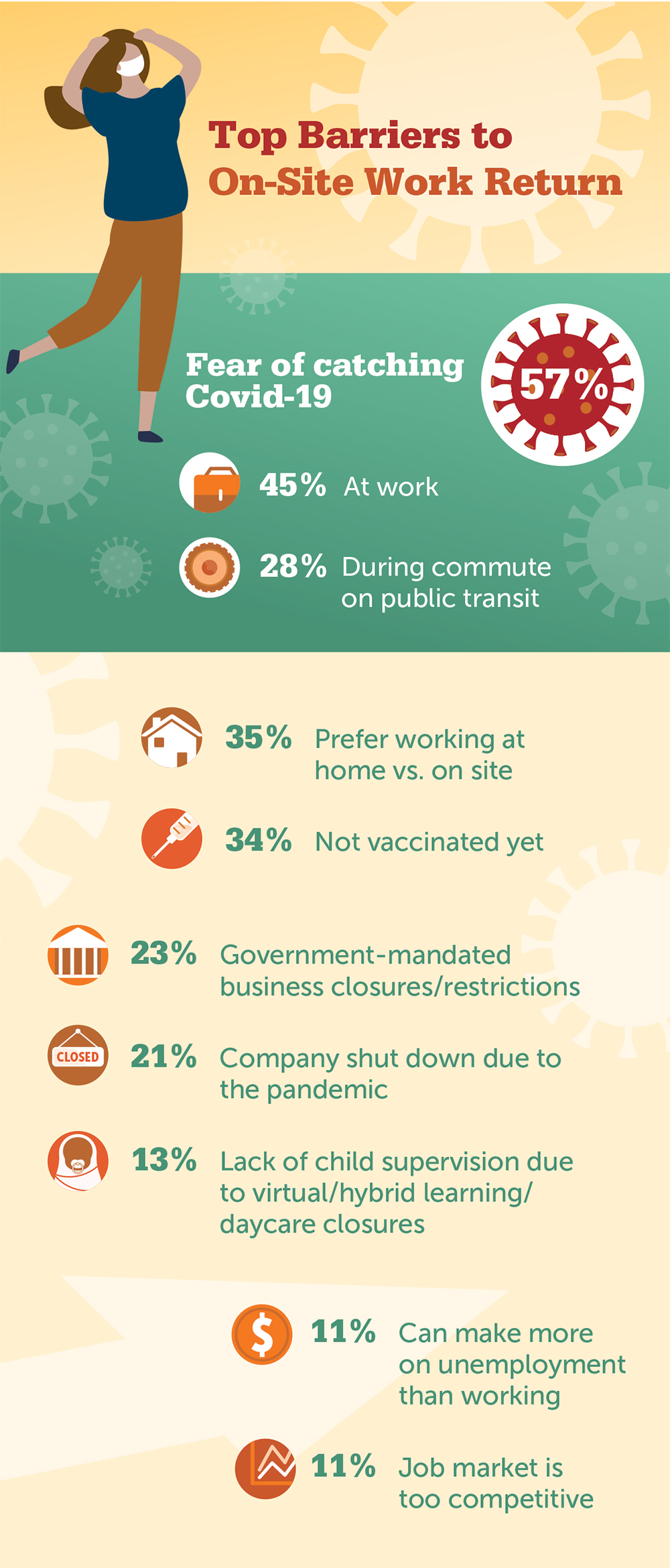 GOVERNMENT MOST TRUSTED
FOR INFORMATION
With so many individuals in the U.S. harboring lingering apprehensions about safety at work, employers must be mindful of how they are communicating with their staff as businesses reopen. The
pandemic has been a period of great uncertainty, compounded by the presence of many sometimes conflicting sources of information.
What are the authorities that U.S. adults trust to assure them on-site work is safe? Four in 10 (42%) believe the guidance of federal, state, or local government, while nearly four in 10 (36%) heed company sources such as leadership, direct supervisors, or colleagues. Nearly three in 10 cite health and safety inspectors (28%) and medical personnel (27%) as credible sources of pandemic information. On the other hand, less than one in 10 say they would trust the news media (7%), social media (7%), and celebrities or influencers (4%).
Notably, one in five individuals (21%) say they do not trust any sources when it comes to how and when to safely return to jobs in brick-and-mortar locations.
Given the lack of a clearly preferred authority that most will heed, businesses seeking to reassure existing staff and new hires should consider tapping into an array of information sources viewed
as more trusted when communicating with staff about on-site work safety, and recognize that not all sources hold the same weight with their employees.
"The ASA Workforce Monitor findings show that employers are among the top resources that U.S. workers listen to when making decisions about returning to on-site job locations," says Richard
Wahlquist, ASA president and chief executive officer. "Organizations must make it a top priority to clearly communicate safe return-to-work policies and procedures to their employees."
---
Cynthia Davidson is senior director of research and Tim Hulley is senior manager of research for ASA. Send feedback on this article to s******@americanstaffing.net. Engage with ASA on social media—go to americanstaffing.net/social.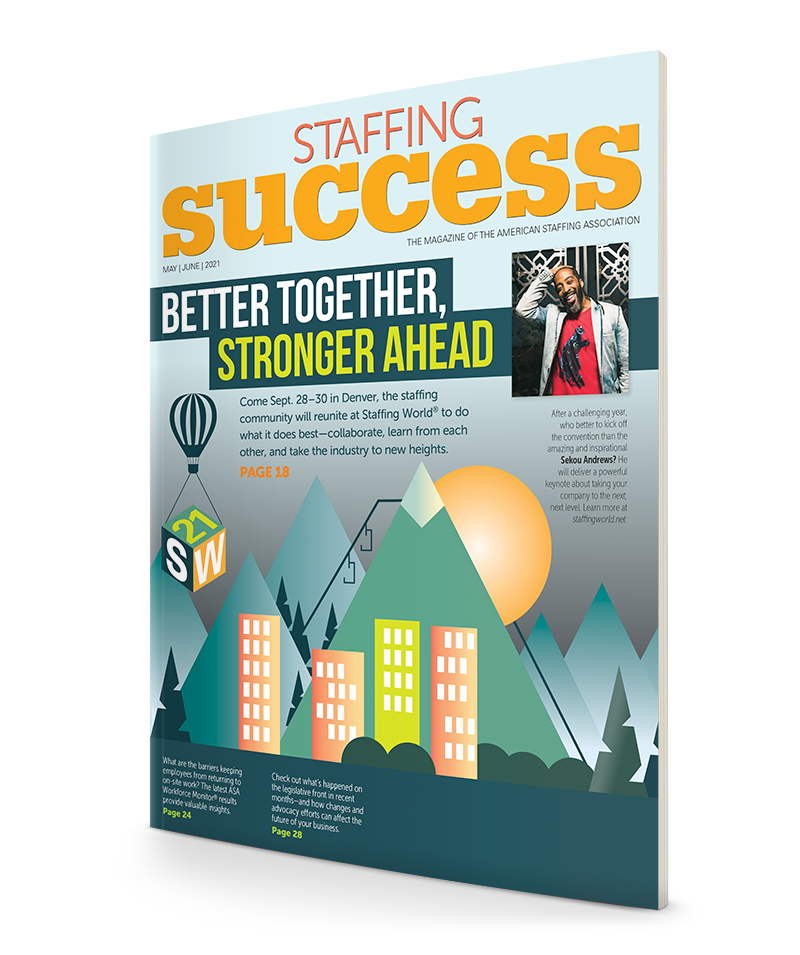 BETTER TOGETHER, STRONGER AHEAD. Let's collaborate, learn from each other, and take the industry to new heights at Staffing World® 2021 in Denver.