A new offering from ASA delivers the data and analysis staffing companies need to stay ahead of change. In the latest installment of Staffing STATS, industry executives tackled hard questions about postpandemic work.
---
In case you missed it: ASA this year launched a new webinar series aimed at delivering timely data and reliable analysis of industry research and economic trends. Especially amid the Great Resignation and pandemic-induced change in workplaces, the Staffing STATS series has been a strategic new benefit for the association's staffing community.
In the most recent installment of Staffing STATS, content and discussion focused on new ASA research findings that examine the postpandemic return to work. Drawing on data from the nationally cited ASA Workforce Monitor® survey, ASA highlighted research that puts the staffing industry at the crux of a privacy paradox.
A lively discussion led by ASA senior director of research Cynthia Davidson made it clear that staffing professionals stand at a complicated juncture. As they steer their businesses into the reopening environment, they face a complex interplay of worker expectations.
On the one hand, the latest survey findings show most U.S. employees believe they have the right to know if their co-workers have been vaccinated against Covid-19. At the same time, nearly as many also say their own vaccination status is private.
"We asked: Do you have the right to know if your co-workers have been vaccinated?" Davidson explains. "We found that two-thirds (66%) of U.S. adults said that, yes, they should have the right to know. It's a paradox, though, because six in 10 say that it's no one's business."
Staffing professionals will have to move thoughtfully to balance those seemingly conflicting expectations. Other data seems to be more straightforward, at least on the surface. When it came to masks, for example, the majority said they should be required even for vaccinated workers. "Nearly six in 10 said that folks should be required to wear masks in the workplace," Davidson notes.
But there's some subtlety here, as the data varied somewhat by ethnicity. Among respondents, 70% of African Americans and 64% of Hispanics surveyed said they favor masking, versus 50% of Whites. The unevenness of the responses around masking, and even more so around vaccinations and privacy, highlights the complex nature of the present moment.
"As you're trying to bring people back into the office, [there are] lots of considerations, lots of things to think about," Davidson says. Along these lines, the webinar then opened up into a wide-ranging conversation with two staffing industry executives who stand on the frontlines of the reopening effort. Attendees heard from Sunny Ackerman, president, SThree Workforce Solutions; and Tom Gimbel, founder and chief executive officer, LaSalle Network. Ackerman has built a reputation as an agile, strategic business architect and an executive who delivers sustainable revenue, market share, and profitable growth. Gimbel was honored on the Crain's Chicago Business 40 Under 40 and was inducted in the Chicago Area Entrepreneurship Hall of Fame.
ARE YOU FINDING THAT STAFFING CLIENTS ARE AS RECEPTIVE TO REMOTE WORKFORCE CANDIDATES NOW, AS COMPARED TO A YEAR AGO?
For Ackerman, the answer is "yes."
"Many of our clients, specifically in some of the IT positions, were working remotely anyway. There was that thinking already occurring in many of the types of skill sets that we were placing at those clients," she explained.
Even among those that didn't have a strong remote workforce prepandemic, there has been a shift.
As the situation evolves, "they are thinking about this very differently," she said. "We actually have seen a lot more openness to the discussion."
Many employers, for example, are making an active effort to ensure workers have the tools they need to do the job at home and still be effective. "We've definitely seen an increased openness and awareness around it from our clients," she said.
HOW DO YOU HANDLE PRIVACY CONCERNS WHEN CLIENTS ASK FOR ONLY VACCINATED CANDIDATES?
As the data indicates, this is an area that requires some finesse.
"We are making people show proof of vaccina¬tion, just to have it streamlined…to make sure that everybody feels safe from those that aren't wearing masks," Gimbel said. "You trust everybody, but let's just dumb this thing down to the least common denominator and say: If you did it, you have your card. Show it once and we're good to go."
To ensure this is done with privacy foremost in mind, the staffing firm then takes steps to ensure that information remains secure. "We run it all through our human resources department," Gimbel said, in order to ensure HIPAA compliance.
ANY WORDS OF WISDOM FOR FOLKS AS THEY THINK ABOUT OPENING BACK UP?
Ackerman urges staffing executives to be flexible during these highly fluid times. It makes sense to accept up front the notion that there will be occa¬sional missteps along the way toward a reinvented future.
That being the case, staffing leaders serve them¬selves well by "continually seeking advice from people in the business," she said. "We're going to learn together through this time."
Communication will be key to success. "This is changing so rapidly and there's been a history of sending mixed messages," for example from the CDC on masking, she said. In this still-uncertain environment, "communication with our workforce is going to be really important."
Gimbel suggested staffing leaders also need to stay focused on the very human aspects of the equation. "Have empathy for your staff," he said. "Whether they're 20-something and it's their first job out of college…[or] if they're parents and they've got young kids at home."
To meet the needs of varied employee groups, it's important to keep an eye on the bigger picture. "It's so easy with every-thing we have going on to get frustrated over things. I pulled my hair out through this whole situation," he said. "Perspective is key and crucial: to have empathy and compassion for people."
How does that work in practical terms? "It doesn't mean you shouldn't hold them account¬able. It doesn't mean you shouldn't set guidelines and do what you think is best for the business. But when people get a little silly or goofy in how they're responding—it's normal. These are crazy times, so have some compassion for your folks," he said.
Davidson in turn echoed this theme. "Mindful leadership at all levels, and offering grace, too— that's going to be so important moving forward," she said. Attendees also posed more general ques¬tions about staffing trends. They wanted to know, for example, how the panelists worked to make manufacturing and other industrial jobs attractive to today's workers.
"There are three things that sell an opportu¬nity," Gimbel said. "There is the job itself. There's the company, and there's the manager that the person's going to be growing under. In the manu¬facturing industry, there will be someone running the warehouse or running the manufacturing facility. Staffing firms can point to the success of those individuals as a draw to potential hires. They can attract talent by highlighting those leadership opportunities," he said.
Staffing firms can also point to job security. While many firms laid off workers during Covid, "a lot of manufacturing companies didn't do that," he said. "I would highlight that: We don't lay people off, we take care of our people." Benefits also play a role in making the case for manufacturing jobs, especially around training and advancement opportunities. "You can focus on that career pathing, if you have any sort of tuition reimbursement for warehouse people, so they can move into a white-collar job if they want to," he said.
Ackerman, meanwhile, points to wider consider¬ations that may apply not just to manufacturing but across a range of harder-to-fill positions. Important conversations need to happen, for example, around working conditions and also around cultural factors.
"Regardless of the environment that you're in, there needs to be rethinking: Is this a position that needs to be in the office?" she said. "What is the organization doing [in terms of] their internal value proposition and benefits structure? All organiza¬tions need to be looking at that, and at things like reskilling and upskilling, which are really important right now."
LOOKING AHEAD
Overall, Ackerman said, there's an expectation across the workforce that things will be different in a postpandemic world.
"Are you coming back into this new environ¬ment and saying: Everything's going to be exactly the same as it was 15 months ago?" she said. "I think that's a missed opportunity." Employees are looking hard at work-life issues in deciding whether to take or to keep a job. "So it is impor¬tant that employers look at that and try to remain as competitive as they can," she said.
Returning to the industrial side, Gimbel added, those considerations may be less cultural and more practical. In manufacturing, "what you need to do is just add a thousand dollars a year men¬tally onto their salary, and figure out what you can give these folks for another thousand dollars that's going to make them feel good," he said. "Is it a new pair of jeans once a month? Is it a pair of work boots [or] meals? What can you do for people to make them feel special? It just has to be bigger than what the guy next door is offer¬ing."
---
Adam Stone, a freelance writer based in Annapolis, MD, is a regular contributor to Staffing Success. Send feedback on this article to s******@americanstaffing.net. Engage with ASA on social media—go to americanstaffing.net/social.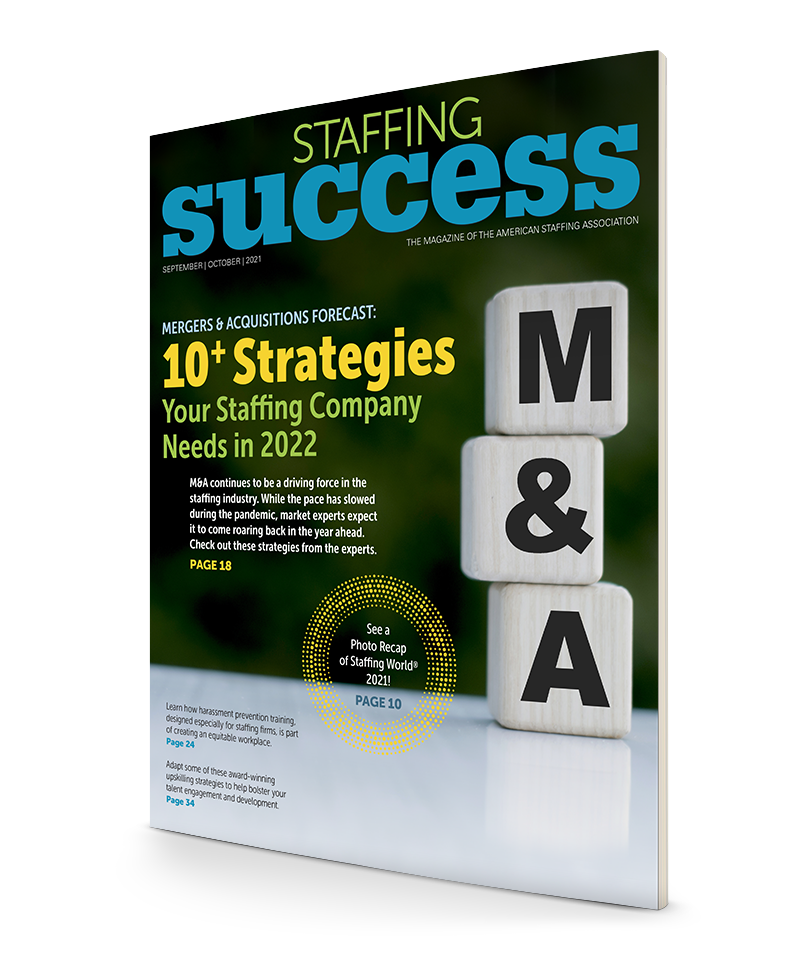 M&A continues to be a driving force in the staffing industry. While the pace has slowed during the pandemic, market experts expect it to come roaring back in the year ahead. Check out these strategies from the experts.