September 21, 2012
Chris Hoover had designs on a dream job.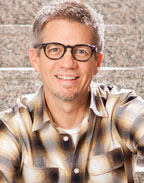 Chris Hoover serves up a story of the perfect assignment turned perfect job.
Chris is like many Americans who seek creative work through staffing companies every day—talented, dedicated, flexible, and industrious. So he was especially thrilled when the staffing firm he was working with landed him a choice temporary assignment as an interactive Web designer. He'd been eyeing just this kind of work at this particular company, but couldn't quite get his foot in the door.
After establishing a steady track record of top-notch performance and results, the company offered him a permanent position. Today, Chris continues to value his job's engaging scope of work and creative leeway—it's "a designer's dream," he says, noting that his relationship with a staffing firm made it all happen.
Staffing firms offer a bridge to permanent employment. For Chris Hoover, that's a dream come true.