ASA has released the second half of an ebook focused on tech strategies that will propel staffing firms into the future.
---
In late summer this year, ASA released to its members the first half of a new ebook focused on what the staffing firm of the future might look like. In that first installment, available in the online ASA Staffing Tech Center, subject matter experts with Talent Tech Labs examined the current technology state of the staffing industry—including the major investments firms are making now and how current trends will continue to affect those investments. The second half of the ebook, available now, takes a more expansive view of what the staffing firm of 2030 could look like.
Go to the ASA Staffing Tech Center to download the entire ebook at americanstaffing.net/techcenter. Here is a preview of the recently released second half of the ebook.
Moving Toward Outcomes, Not Placements
In the future, staffing firms will sell (and clients will expect to purchase) outcomes, not placements. What this means is that there is an opportunity for staffing firms to "break up" work into more optimally divided tasks that can be accomplished either less expensively or more effectively piecemeal.
A good example from today's market of this approach is what Fiverr, an online marketplace for freelance services, has done with its digital marketplace: The company does not sell three million humans to be hired; rather, it sells three million "services" that have been well defined and that can be purchased for a fixed price. While Fiverr is currently operating at the lower end of the skills spectrum (its average order size is less than $500), this model removes friction in the hiring process by tying the purchase specifically to an outcome. It also presents an advisory opportunity to staffing firms that are better able to match skills to outcomes.
Staffing companies of the future won't just be filling job reqs—they will help organize the scope of work and structure the composition of the team that ultimately delivers for the client. This will require much more sophisticated talent intelligence tools to understand candidate capabilities and, more specifically, how those capabilities can match to specific tasks required to accomplish a project.
Focusing on Talent Pool Prospects
By 2030, almost all organizations will have a proprietary database of pre-engaged talent (i.e., a talent pool) and the desire to leverage such candidates as the primary source of their temporary and contract workforce. Today, the early examples of this are "direct sourcing programs" among large employers, which are typically administered by a client's managed service provider (MSP) or a specialized vendor. In the future, part of the industry will evolve into serving this segment, providing the process, technology, and service (including actually employing the workers that are sourced via this channel) required to successfully activate a passive talent pool.
Today's direct sourcing vendors will obviously continue to grow and have skin in the talent pool game; however, a new breed of staffing firm specially engineered to serve this market will likely emerge. Such a firm may bring its own pool(s) of talent, recruitment marketing and automation technology, and a suite of employment services for candidates. There may also arise a set of application programming interfaces (APIs) that clients could use to connect their internal databases and "turn on" a contingent recruiting campaign.
Looking Toward a 'New' Industry
In 2030, competition is as likely to come from outside the industry as within it, possibly redefining the industry in the process. In addition to venture-funded "disruptors," big technology companies have already been dipping their toes: Amazon has been running its Mechanical Turk network of crowdsourced workers for years and recently launched a "human-assisted AI" cloud service; Google has built a job search and matching technology that it sells to talent acquisition tech companies and to staffing firms; Facebook launched its own Jobs Marketplace (a seeming "Craigslist killer"); and dating apps have tried their hands at matchmaking beyond romantic partnerships (e.g., Tinder's parent company, IAC, invested $14 million in an on-demand staffing app called BlueCrew; eHarmony launched a job board in 2016; and Bumble recently launched Bumble Bizz, a matchmaking service for career seekers).
These new players—and ones you might not even consider—will introduce new ways of curating and displaying jobs, new methods of matching candidates to opportunities, and possibly new business models that alter the fundamental economics of the staffing business.
Download the entire ebook focused on the staffing company of the future when you visit the ASA Staffing Tech Center at americanstaffing.net/techcenter. The Tech Center also provides a variety of resources related to technology solutions and improving efficiencies for staffing companies.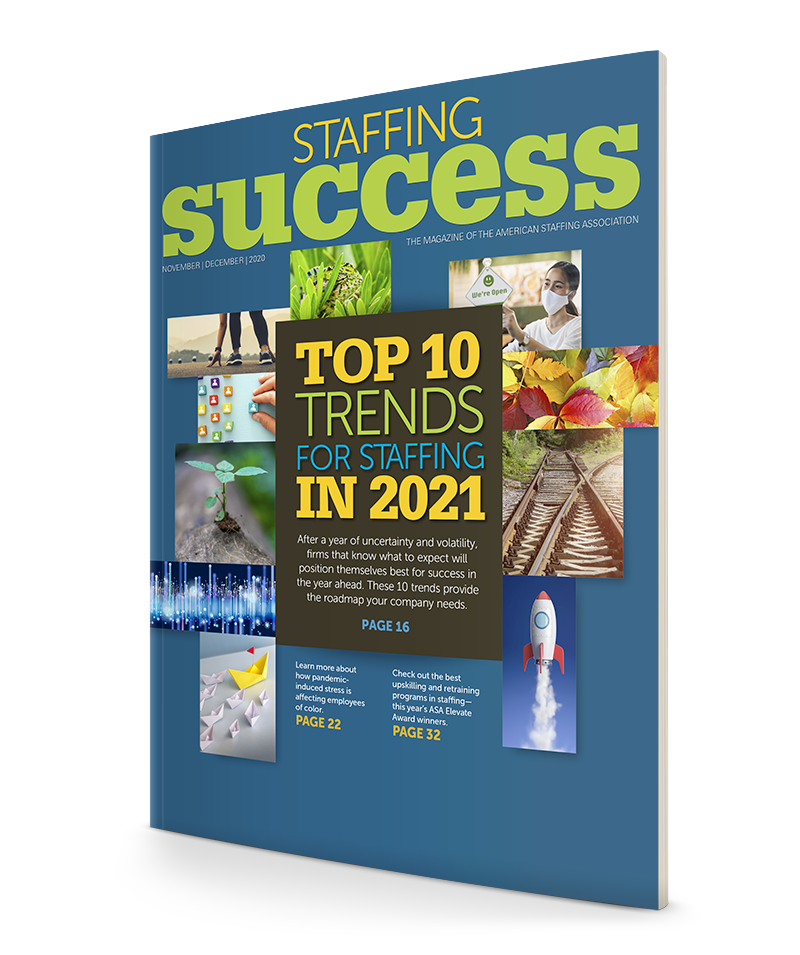 After a year of uncertainty and volatility firms that know what to expect will position themselves best for success in the year ahead. These 10 trends provide the roadmap your company needs.