The ASA Elevate Awards recognize outstanding, innovative, and effective work-based learning programs that train, reskill, and upskill temporary and contract talent.
---
ASA members are creatively handing the skills gap, lack of qualified talent, and too many open requisitions with a focus on enhancing the skills of their current workforce. Is your company a trailblazer in this area and deserving of national recognition?
The deadline for submissions is now closed.
ASA Elevate Awards Entry Form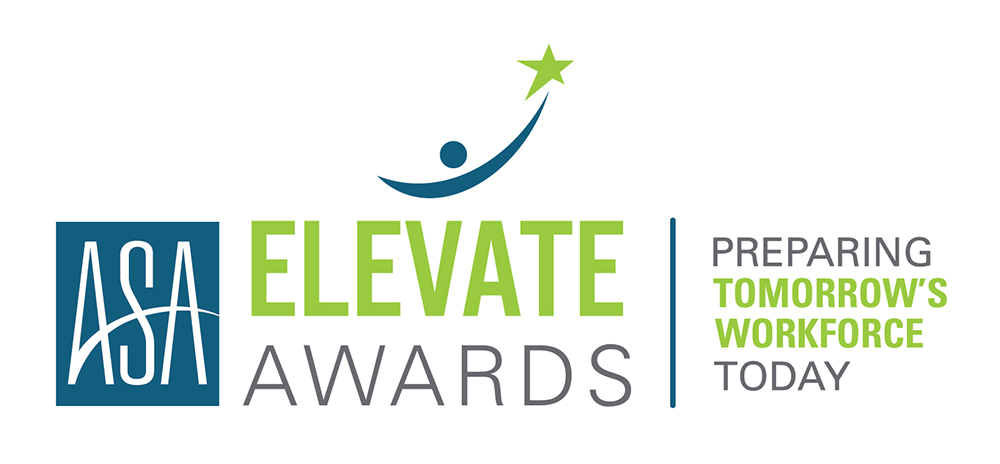 ---
Eligibility
Any skills development program developed and managed by an ASA member staffing agency for temporary or contract employees is eligible. Initiatives must demonstrate clear goals and results for enhancing productivity and improving the company's value proposition for candidates, employees, and clients. The programs do not have to be launched in the current calendar year—they can be long-term, successful programs.
The competition is open only to the headquarters of active ASA staffing agency members. Members that own more than one staffing company may submit entries for each company marketed under a separate name that has its own budget and program.
Deadline
The deadline for submissions for the ASA Elevate Awards has now passed. There is no fee to enter the ASA Elevate Awards program.
Entry Classes
Submissions will compete in one of four award classes based on company annual sales:
Staffing agency with less than $7.5 million in annual sales
Staffing agency with $7.5 million—$25 million in annual sales
Staffing agency with $25 million—$100 million in annual sales
Staffing agency with more than $100 million in annual sales
Instructions and Guidelines
Companies must complete and submit the online ASA Elevate Awards application. Submitting digital or print materials that support the entry (e.g., charts, graphs, photos, other graphics, videos, program URLs, news articles, testimonials, promotional materials) is highly recommended.
Former honorees are encouraged to submit if their workplace learning programs have evolved or been enhanced during the past year.
Digital materials: Attach any digital materials to the online form (up to five files can be uploaded; if you need to submit additional files, attach a .zip form). Provide URL(s) in the campaign URL(s) box on the online form.
Print materials: For print materials, submit the online form and mail five (5) copies of the materials with a copy of the online form to the attention of
ASA Public Relations Team
277 South Washington Street, Suite 200
Alexandria, VA 22314-3675
703-253-2020
Note: It is essential that the contact person provided in the entry form be both knowledgeable about the program and available to answer questions in a timely manner.
Awards and Recognition
Winners and honorable mention distinctions will be conferred in the award classes at the discretion of the program judges. The judges may elect not to issue an award or honorable mention if no entry in an individual class merits recognition.
Winners will be honored during Staffing World 2023, Oct. 3-5 in Charlotte, NC, and featured in ASA publications, on the ASA website, and via news media outreach and social media campaigns
Honorees can promote their ASA Elevate Awards by using special award winner logos, template news releases, and more.
Examples of Past Winners
Want to learn more about past ASA Elevate Award top winners? Check out these articles from a previous issues of Staffing Success.
2021 Honorees