October 01, 2020
The American Staffing Association today announced the winners of the 2020
ASA Elevate Awards
. This professional recognition program celebrates the most innovative and effective learning programs to train, upskill, and reskill temporary and contract employees across the U.S. Awards and honorable mention distinctions are conferred in award classes by company revenue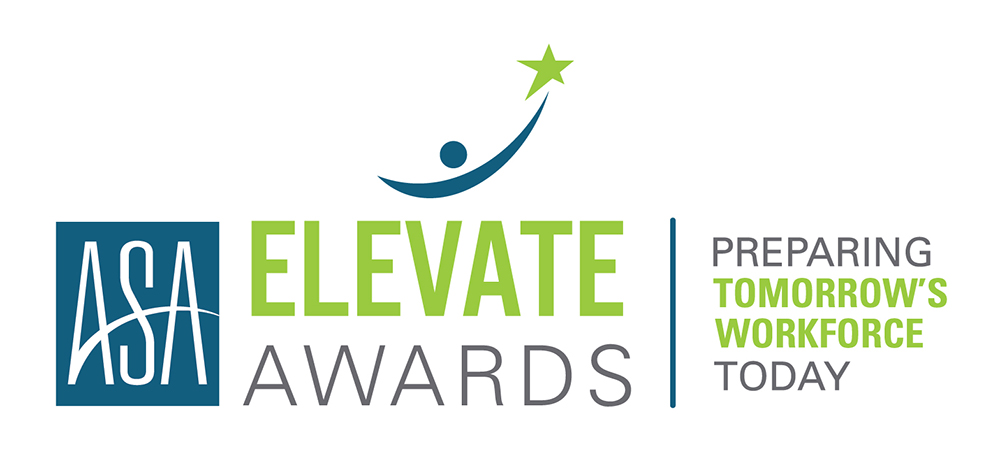 2020 ASA Elevate Award Winners
Staffing Agencies With More Than $100 Million in Annual Sales
Adecco Group US Foundation, "Adecco Academy"
Last year the Adecco Group US Foundation partnered with Penn Foster to launch the Adecco Academy, an online training program to give company associates the opportunity to learn high-demand trade skills at no cost. The program is designed to provide professional certifications that help associates secure better-paying jobs. Learners visit a landing page of courses specifically selected for relevance to today's workforce. After completing a course, learners receive a completion certificate or digital badge to share their new skills with prospective employers—helping associates build their résumés and pursue new career opportunities. Since its inception, more than 4,300 associates have enrolled in the Adecco Academy (approximately 930 are current learners) who have gained more than 2,000 skills. In addition to helping advance associate's careers, the Adecco Academy provides a new value proposition for clients because they don't often have the resources to offer upskilling programs themselves.
Aquent, "Aquent Gymnasium"
Aquent Gymnasium provides free online courses on web development, design, user experience, and content creation. The program's mission is to bridge the gap between education and opportunity. By providing relevant training and content informed by client needs, Aquent Gymnasium successfully prepares existing students and attracts new candidates to boost its talent pipeline and increase Aquent placements. Since the program was founded in 2013, it has acquired more than 121,300 students, experienced more than 15,100 course enrollments, issued nearly 9,000 credentials, and streamed well over one million lessons. Honored with an ASA Elevate Award two years ago, Aquent Gymnasium was recently enhanced via the launch of "Take 5" tutorials—free videos that teach practical skills in five minutes on topics like web design and development, UX, prototyping, and career skills. The tutorials have been viewed more than 15,000 times since this new learning content was launched in 2019.
HealthTrust Workforce Solutions, "StaRN and StarTech"
Since 2014, the HealthTrust Specialty Training Apprenticeship for registered nurses has trained more than 20,000 newly graduated nurses who otherwise would have faced substantial difficulties working in acute care environments. The program bridges the skills gap and prepares the new nurses to care for patients as soon as they enter the facility. In recent years, the program has expanded to include StaRN PLUS and StarTech. StaRN Plus provides intensive specialty training to experienced licensed nurses and combines classroom instruction, e-learning, simulation exercises, and hands‐on clinical training at sponsoring HealthTrust client facilities. Depending on the specialty track, the program runs for 10 to 22 weeks and the nurses are paid during the term. StarTech is a three-week, client-paid program for certified nurse assistants that combines classroom instruction, electronic health record practice, and hands‐on clinical training in acute hospital settings. To date, approximately 1,000 certified nursing assistants have participated in StarTech.
Staffing Agencies With $7.5 Million‒$25 Million in Annual Sales
Conexus MedStaff, "International Nurse Professional Pathway"
The International Nurse Professional Pathway program was launched early last year to prepare international nurses on contract with Conexus MedStaff for their first U.S. assignments. The program addresses the current nursing shortage in the U.S. by tapping into qualified nurses from around the world. Specifically, INPP ensures that international nurses are prepared and competent in all clinical areas pertaining to their specialties for their assignments in the U.S. The program is comprised of three training modules—U.S. readiness, assessments, and assimilation—and a library of resources to help prepare participants for their work in U.S. health care facilities. Among other key metrics of success, nurses who successfully finished the program achieved above average, 90-day performance evaluations and 98% successfully completed their contracts in assigned facilities. INPP has strengthened Conexus relationships with both nurses and clients, as well as improved productivity, quality, confidence, and reliability.
Year Up Professional Resources (dba YUPRO), "YUPRO Pathways at Work―Your StepUP to Success"
Year Up Professional Resources developed YUPRO Pathways at Work to meet increasing client demand to improve contract talent retention and career advancement. The program also increases productivity and job satisfaction, and ultimately increases conversions to permanent jobs. Program participants—all underserved young adults—acquire critical professional skills like self-assessment, goal alignment, and team collaboration. The program's high-touch approach includes a skills assessment with customized, on-assignment coaching conducted by YUPRO-certified coaches, as well as client feedback sessions resulting in continuous performance improvement. Coaches interpret assessments for 20 readiness skills and then develop courses customized to meet participant needs and tailored to their job roles. In the past year, 400 contract employees have received 1,700 hours of coaching. Among the program's positive outcomes, assignments last an average of 40 weeks, exceeding company goals, and 74% of assignments result in extensions.
---
2020 Honorable Mentions
Staffing Agencies With More Than $100 Million in Annual Sales
Apex Systems, "Career Readiness Resource Site for Job Seekers"
Staffing Agencies With $7.5‒$25 Million in Annual Sales
ETS Inc., "Ready4Real"
A recognition ceremony for this year's ASA Elevate Award winners takes place on Oct. 22 during Staffing World® 2020, the ASA virtual convention and expo. Learn more about the ASA Elevate Awards at americanstaffing.net/elevate.
# # #
About the American Staffing Association (ASA)
The American Staffing Association is the voice of the U.S. staffing, recruiting, and workforce solutions industry. ASA and its state affiliates advance the interests of the industry across all sectors through advocacy, research, education, and the promotion of high standards of legal, ethical, and professional practices. For more information about ASA, visit americanstaffing.net.