What clients and prospective clients think of your company can make or break your ability to increase sales and expand your market share. Abide by these five reputation-related rules to ensure you are positioned for success.
---
Here is a quick exercise in the power of reputation: Name almost any well-known brand. The first few words that come to mind give you good insight into that company's reputation.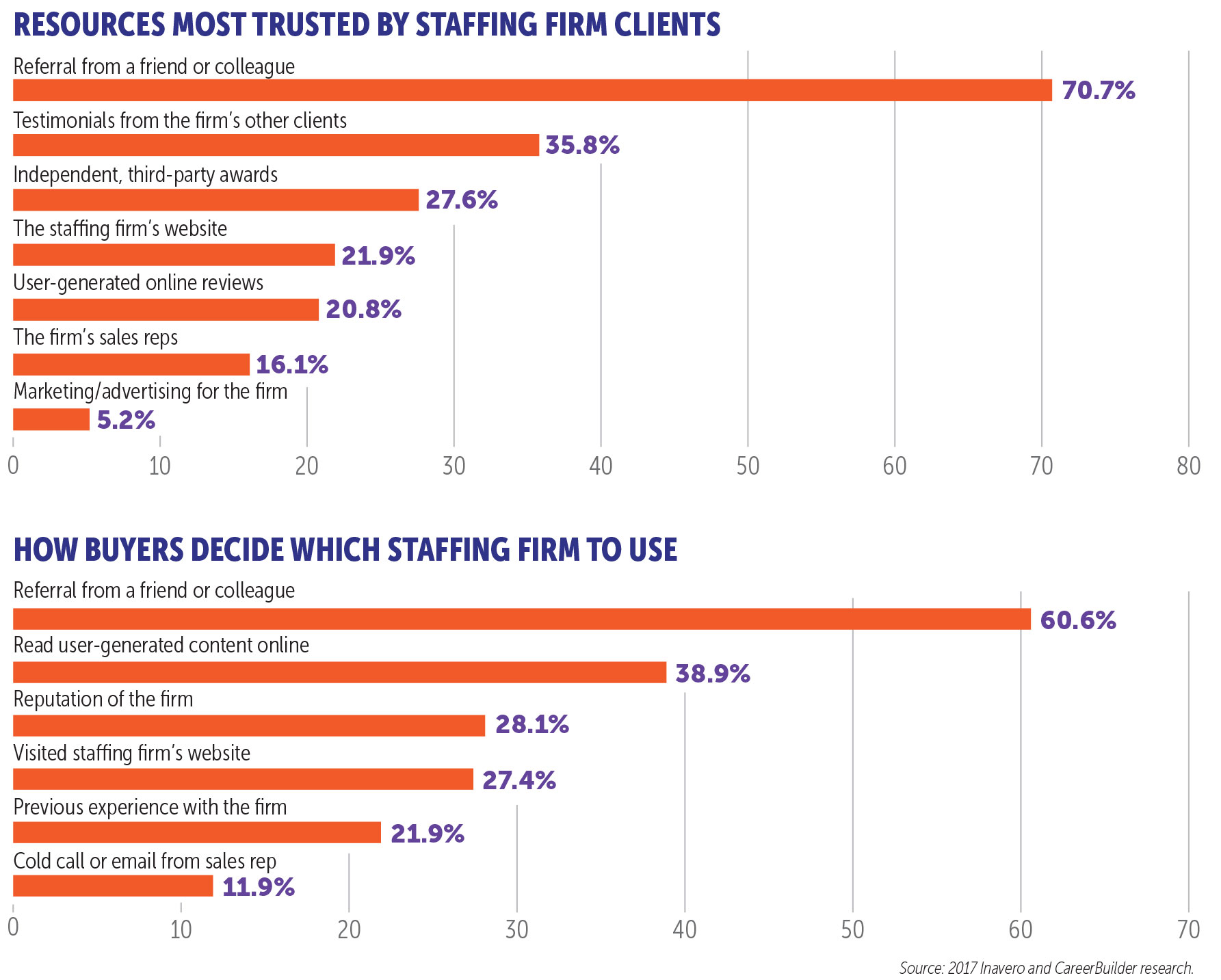 For example, if you were asked which words you associate with brands such as Apple, Nordstrom, or Disney, you would likely use terms related to superior design, customer service, or magical experiences. Similarly, any individual familiar with your company, from your internal staff to candidates to clients, also can make quick judgments about your business. Research focused on the staffing, recruiting, and workforce solutions industry shows that these opinions matter—a lot.
A recent Inavero and CareerBuilder study found that a staffing company's reputation is second only to a referral from a trusted colleague when it comes to choosing to work with one staffing company over another. How do clients and prospective clients learn about a company's reputation? Online resources like Yelp, Glassdoor, and even Inavero's bestofstaffing.com help measure and communicate a company's reputation. But this also occurs offline.
It's what people say when you leave the room at a conference. It's what clients and job candidates tell others about you at a party with their friends. Clearly, reputation is important. But how can you affect and influence it?
Consider these five reputation rules—each cast in the context of the industry—to help guide, hone, and support your company's operational and growth strategies.
Rule #1:
The Industry's Reputation Is Both Helping and Hurting You
"You can't buy a good reputation; you must earn it."
—Harvey Mackay, best-selling business author and syndicated columnist
For many of you, the following scenario will ring true: Your sales team breaks into a major account and has an opportunity to close a significant piece of new business. They've just gotten done talking about your company's unique process for ensuring exceptional service and high-quality talent. The prospective client responds: "I've heard the same thing from the last three staffing companies I've worked with and they have all failed. What makes you different?"
Inavero and CareerBuilder have been measuring the staffing industry's client satisfaction for a decade, and the scores have been in sharp decline since their peak in 2009. This creates both an opportunity and a challenge for staffing companies that deliver superior service. On one hand, they can truly stand out among their competitors. On the other hand, they likely will have more difficulty trying to persuade a prospective client who has had a bad experience elsewhere.
Clients often believe and understand that working with a staffing company can save them time and help them gain access to talent they couldn't otherwise find. However, one in four clients say they would only work with a staffing company if they can't find someone on their own. Additionally, their most common complaint is that staffing companies are too pushy when advocating for talent.
At the end of the day, your company's reputation is given context by the overall industry's reputation. Does your company want a reputation for truly partnering with clients? Then you'll have to take extra steps to help them see how your company is unique, despite their preconceived notions and past experiences.
Rule #2:
Reputation Is Based On Perception, Not Reality
"Reputation is an idle and mostly false imposition; oft got without merit and lost without deserving."
—William Shakespeare, 16th century English poet and playwright
Reputation isn't what you know to be true about your company. It's what others believe to be true. This is an important distinction. Your company may offer countless hours of safety training, be more diligent about site audits than other firms, and have a virtually unblemished safety record, yet none of that affects your reputation if people don't know about it.
Perhaps the most publicized example of the impact of poor customer service occurred earlier this year when United Airlines had a passenger forcibly removed from his purchased seat when the flight was overbooked. The overbooking of flights and being bumped from a full flight are frustrating occurrences that happen countless times a day on all major airlines throughout the world. However, in this case, the passenger, David Dao, refused to leave the plane and was forcibly removed as passengers shot video from their smartphones and publicly complained about his treatment. The story went viral, and in the four days following the incident, United lost $770 million in market capitalization.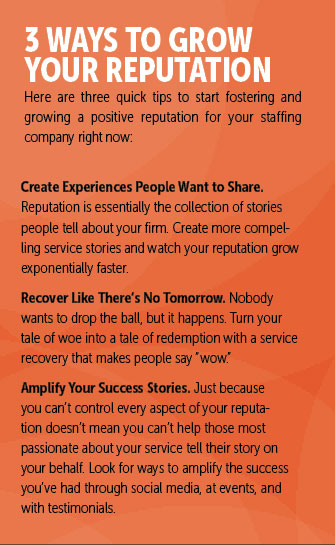 The cruelest irony? While still behind many of the major carriers, United has increased its customer satisfaction more than any other major airline since 2015, according to American Customer Satisfaction Index data. The reality is that for most who fly United, they are having a better experience today than they were two years ago, yet United's reputation continues to flounder with high-profile examples of service failures.
In my work with staffing company executives, I often hear about the innovative things they are doing on behalf of their clients, talent, and internal staff to illustrate their commitment to service. Unfortunately, those programs often are falling short of their full potential due to a lack of awareness, understanding, or utilization. For example, nearly 90% of staffing firms say they provide résumé advice to candidates, yet only 44% of candidates report receiving this service. These types of disconnects put staffing firms at a reputation disadvantage and represent opportunities to improve communication and education around the tools and services they provide.
Rule #3:
Put Service at the Center of Your Business
"The way to gain a good reputation is to endeavor to be what you desire to appear."
—Socrates, classical Greek philosopher
The foundation of your company's reputation should be consistently remarkable service. Your current clients and the talent you place will tell you what they think of your reputation—but you have time trying to fix service issues they find (as they should), yet do virtually nothing with the responses from people who love them. In analyzing nearly 300 different Inavero staffing firm clients over the past year, we found that for every detractor (those rating a six or lower on a 10-point scale) there were more than 10 promoters (those rating a nine or 10). While these clients are telling you they love you, it is up to you to help them find opportunities to tell others. These loyal advocates are willing to refer you and willing to provide testimonials—but it's up to you to ask them.
Rule #4:
Online Reputation Has a Multiplier Effect
"Your brand isn't what you say it is, it's what Google says it is."
—Chris Anderson, editor-in-chief of Wired magazine
There's likely not a business owner alive who will say Yelp or Glassdoor reviews completely and accurately reflect their company's service and offerings. Nevertheless, these and other ratings sites have a significant impact on the perceptions of your firm—especially among those who don't have first-hand knowledge of your business. When job candidates attempt to judge the quality of your company, two in five trust online ratings to inform that decision, nearly twice as much as they trust your sales reps or marketing materials. And while referrals sit atop the mountain in terms of how trusted they are by client and job candidate prospects alike, six in 10 people who receive a referral also vet the firm online as part of their decision-making process. Prospective clients and candidates also are more likely to seek out user-generated content, such as social media posts, than your company's website content.
Coincidentally, United Airlines also provides a cautionary tale about the impact of the online multiplier effect. In 2009, United passenger Dave Carroll reported his guitar had been broken due to mishandling by the airline's employees. He sought $1,200 in damages. When he was unsatisfied with United's response, he created a YouTube video called "United Breaks Guitars." In just four days, one million people viewed the clip. Within two years, it had been viewed more than 15 million times and inspired a book and two additional videos. We're all familiar with the adage that a satisfied customer tells three people, while a dissatisfied customer tells 10. But 15 million? That's the multiplying effect fueled by the internet.
Just like reputation overall, a positive online reputation isn't built in a day. To build a credible, accurate representation of your brand's reputation online, you must seek to amplify the positive stories over a long period of time and move your firm toward service transparency. Become an active participant in your online reputation. Push for feedback—both good and bad—and publish your service scores and any testimonials to support them.
Rule #5:
Building Reputation Takes Time, But It Can Be Accelerated
"It takes many good deeds to build a good reputation, and only one bad one to lose it."
—Benjamin Franklin, inventor and author best-known as a founding father of the U.S.
It is true that reputation is built over time. But that doesn't mean that your company must patiently wait for years of consistently remarkable service experiences to make its way into your market's consciousness. There are several ways to accelerate your firm's reputation in the marketplace (see the sidebar on the previous page), but you also must recognize them and build a process to take advantage of them.
Your company's reputation is essentially a collection of stories. The more compelling your service stories are, the more likely people will share them with others. For example, if your service story with a job candidate is that you gave her solid support during her job search, that's a nice win. However, if the story is that someone personally drove her to three interviews because her car broke down, that's a much more interesting story—and it's more likely to be retold.
Another opportunity to define your firm is how you respond when things don't go as planned. Nobody likes to have mistakes happen, but they do present opportunities (good and bad) for an acceleration of your reputation. It all depends on what you do to recover from the issue. An authentic, heartfelt, and empathetic apology and recovery to a mistake can actually lead to a story that puts on display how important your clients and talent are to you. When an issue arises, there will be a story. It is up to your company to make the story a tale of redemption, and not betrayal.
Finally, ask for help. As I mentioned before, even staffing firms that are not world-class at service have clients and candidates who they have created a world-class experience for. These people are your best salespeople; your best recruiters. When they tell someone how great you are, that person trusts them in a way that you couldn't possibly hope to make them trust you. Because those individuals have been in that person's shoes. They've experienced great service from you. And they have no vested interest in convincing the individual that they should use your services. They are the perfect salesperson, except they don't often tell the story. For every loyal advocate who refers hundreds of thousands of dollars worth of business to your firm, there are dozens who would rave about you if asked, but don't find themselves in those conversations. Help them tell the story on your behalf through testimonials, ask them for referrals, and show them that you truly appreciate their help.
In an era of transparency, when seemingly everything that occurs in our society is documented and discussed online, the distance between the experiences staffing firms provide to their client and talent communities and the sharing of those experiences has never been shorter. Your company must aspire to build a service model worth talking about, and then find credible ways to amplify the voices of your most satisfied clients and talent.
---

Eric Gregg is founder and chief executive officer of Inavero and bestofstaffing.com. Send your feedback on this article to s******@americanstaffing.net. Engage with ASA on social media—go to americanstaffing.net/social.