October 03, 2019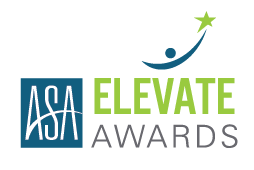 The American Staffing Association today announced the winners of the 2019 ASA Elevate Awards. This professional recognition program celebrates the most innovative and effective work-based learning programs designed specifically for temporary and contract employees.
2019 ASA Elevate Award Winners
Staffing Agencies With More Than $100 Million in Annual Sales
Modis, "Modis Academy"
Modis Academy is a solution to close U.S. talent gaps and a new-age model for building a pipeline of career-ready talent. The program upskills U.S. adults in some of the nation's most technical and sought-after skill sets—software engineering, data science, and UX design—in partnership with global education provider General Assembly. Modis identifies students, covers the costs of the education, and then aims to place the students in jobs with a client where they can build a career using the new skills. Through the program, Modis is able to better respond to client needs, enhancing both supply and access to the most in-demand skills, while making STEM careers more attainable for a greater number of people. The program is still in its pilot phase, but the goal is to have 100 students enrolled and/or graduated from Modis Academy by the end of 2019.
Staffing Agencies With $7.5-$25 Million in Annual Sales
ETS Inc., "AIME (Assembling Industry: Manufacturing and Education)"
ETS Inc. is successfully addressing its manufacturing clients' skills gap challenges and providing improved employment opportunities to adult residents of Upstate New York through its AIME program. Students participating in the eight-week training program receive a wealth of credentials, including the National Workforce Readiness Credential, LEAN 101, and OSHA 10, while gaining new technical skills based on local manufacturer input. AIME also focuses on soft skills development and assists students with crafting résumés and tips for acing interviews. Each session concludes with an employment seminar where participants can interview with some of the region's top manufacturers. Student tuition is covered by grants and scholarships. Since launching in 2010, 268 people have successfully completed the AIME program.
Madden Industrial Craftsmen Inc., "Madden Apprenticeship Program"
Madden Industrial Craftsmen offers the first staffing agency-run registered apprenticeship program in the U.S. Registered apprenticeship programs take extensive time and resources to create and manage. Now Oregon-based businesses have access to Madden's apprenticeship license without needing to create programs on their own. Madden handles all human resource responsibilities (including payroll), skills verification, soft-skills screening, and education tracking. The registered apprentices are Madden temporary employees who work at client job sites while the staffing company monitors their training and associated instruction at a local
community college. The Madden Apprenticeship Program was launched in late 2018, and by the end of this year, Madden expects to enroll a total of 10 apprentices. These programs often take more than a year to be drafted and approved by the state of Oregon, but Madden expects MAP to grow quickly now that its foundation is built.
Less Than $7.5 Million in Annual Sales
Community Health Network, "Managed Care Project"
Community Health Network was approached by a major Boston-area health system health plan to provide experienced home care registered nurses (with strong clinical expertise and assessment skills) to be cross-trained on performing field assessments and managing newly enrolled members during peak enrollment periods. The initial project was a success and every year since the program was launched in 2016, Community Health Network has provided a group of nurses for this training. To date, approximately 75% of the participants were offered permanent positions by the health plan, and those who were not offered positions or who chose to return to home care case management, now have a new skill set and improved marketability if they decide to explore future employment opportunities in the managed care field.
TEKtalent Inc., "Invest in Yourself"
The Invest in Yourself program directly tackles the information technology skills shortage in the U.S. TEKtalent designed the program for individuals employed in nontechnical roles with an interest in starting a new career in IT: specifically as business analysts. This is a free six-week training program. Trainees are first taught live in a classroom and then transition to a primarily online learning environment. Courses taught include introduction to business analysis, software development lifecycle, logical modeling, gathering and documenting user requirements, and more. Trainees who complete the program are placed on assignment at TEKtalent clients or find employment on their own—and all receive on-the-job support via mentorships. Program graduates are now able to find jobs that offer much better pay with room for advancement, and TEKtalent has a pool of qualified candidates to place with clients.
2019 ASA Elevate Award Honorable Mentions
Staffing Agencies With More Than $100 Million in Annual Sales
Express Employment Professionals, "Job Genius"
Randstad US, "Hire Hope Career Readiness Program"
Awards and honorable mention distinctions are conferred in the award classes at the judges' discretion.
The Elevate Award winners will be celebrated Oct. 17 at a recognition ceremony during Staffing World® 2019 in Las Vegas.
To learn more about the ASA Elevate Awards program, visit americanstaffing.net/elevate.
# # #
About the American Staffing Association
The American Staffing Association is the voice of the U.S. staffing, recruiting, and workforce solutions industry. ASA and its state affiliates advance the interests of the industry across all sectors through advocacy, research, education, and the promotion of high standards of legal, ethical, and professional practices. For more information about ASA, visit americanstaffing.net.