March 04, 2021
Standout Staffing Companies Receive National Recognition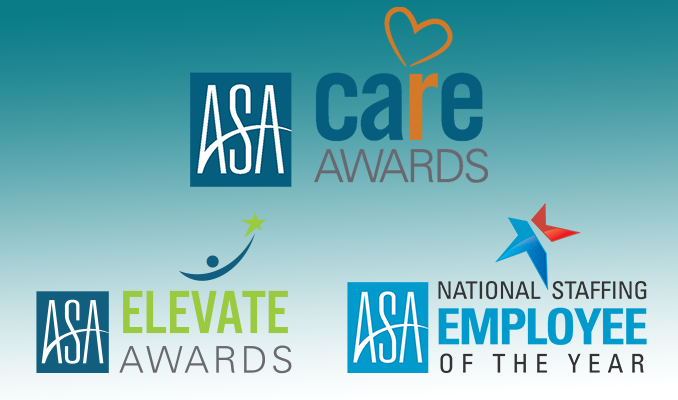 The American Staffing Association is now accepting submissions for its prestigious awards programs—National Staffing Employee of the Year, ASA Care Awards, and ASA Elevate Awards. There are no fees to enter and online submissions are due May 1.
As the voice of the U.S staffing and recruiting industry, ASA promotes award recipients at a national level to communicate the value of staffing as well as celebrate the exemplary efforts of staffing companies.
National Staffing Employee of the Year: Recognizes outstanding temporary and contract employees who exemplify the promise of staffing employment. Finalists, called "All-Stars," are also recognized—if merited—in five industry sectors. To qualify, employees must have worked through an ASA member staffing company some time since May 1, 2020. Sponsored by StaffPRO3, a division of PMC Insurance Group.
ASA Care Awards: Honors effective social responsibility initiatives in the staffing industry. These initiatives serve local communities as well as drive employee engagement.
ASA Elevate Awards: Recognizes outstanding, innovative, and effective work-based learning programs that train, reskill, and upskill temporary and contract employees.
Winners will be celebrated during Staffing World® 2021, Sept. 28–30 in Denver; featured in ASA publications; and spotlighted on the ASA website, in national news media outreach, and in social media campaigns. Recipients can promote their accomplishments by using special award logos, template news releases, and additional marketing resources.
To learn more and apply for any of these awards programs, visit americanstaffing.net/awards.
# # #
About the American Staffing Association
The American Staffing Association is the voice of the U.S. staffing, recruiting, and workforce solutions industry. ASA and its state affiliates advance the interests of the industry across all sectors through advocacy, research, education, and the promotion of high standards of legal, ethical, and professional practices. For more information about ASA, visit americanstaffing.net.